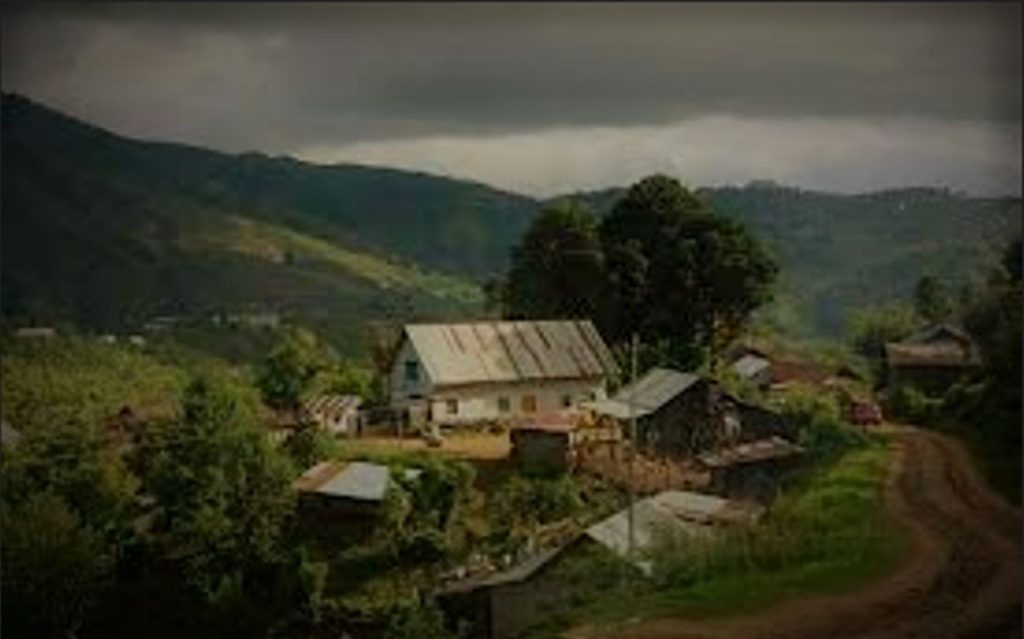 Jassy Ronra was appointed as a 'Record Keeper' in the department of Food & Civil Supplies, and she was directed to report to the head office in Imphal, the capital city of Manipur, within seven days. The position might not have been commensurate with her qualification; nevertheless, she was excited because government jobs weren't easy to come by. Equally overjoyed were her family members and relatives! They congratulated her and wished her well. A day prior to her departure for Imphal, the village Church pastor was requested to come to the Ronra home and pray for her. A sumptuous meal of rice, pork, and other delicacies was painstakingly prepared by the ladies in the family, and a small family celebration followed the prayer service.
Jassy reported to the office within the timeframe specified in the government order. She was made to fill out pages of forms, giving details about herself, her educational qualifications, and also details of her family members. It took her almost the whole day because there were several columns she could not understand. Therefore, the dealing hand in the establishment branch had to be consulted umpteen times. The last of the reporting formality was to meet the Dy. Director. She was directed to a room with a nameplate, 'Mr. Amujao Singh, Dy. Director (Estt)' written on the door.
She knocked and entered and greeted him. The pot-belly gentleman, slouching on a massive chair, took no notice of her nor reciprocated. He kept talking to the other staff, as he smoked and chewed betel nut ceaselessly. After a nerve-wracking wait, the officer finally asked, "What is your name?" "Jassy… Jassy Ronra Sir" she replied quickly and handed over the joining letter. "From Senapati district?" he asked. "No Sir, I am from Ukhrul" Jassy replied. He scribbled something on the paper and gestured for her to leave. "What an ordeal", she said to herself.
The following day, an internal order was issued by the office assigning her duty in the 'issue section', where records of transport contractors lifting food grain from the store for shipment to different distribution points were maintained. Her introduction to her colleagues was done by the Section officer, who simply announced that she had newly joined, and her name was Jassy. Her colleagues looked at her and nodded. The section looked messy and unorganized, with dusty old records piled up on the tables. Transport Contractors and their drivers walked in freely. Some of them even spat paan juice in the dustbins, littered the surrounding, and lewdly stared at female employees. But no one seemed to notice their demeanor. "Do these uncouth fellows stuff the official's mouths with currency notes?" she wondered.
Amidst all of these, Jassy noticed a gentleman silently stealing glances at her. She felt a bit uncomfortable, yet enjoyed the attention. She also noted that the guy hardly interacted with other staff, including those who sat very close to him. He is so different, Jassy thought. One morning before too many people poured into the room, Jassy went up to him and formally introduced herself. "I am Jassy," she said, stretching her hand out. He got up from his seat and responded, "I am Iboton….Iboton Thingujam" and shook hands with her. "How long have you been working here?" Jassy enquired. "Three years," he simply said. "I am suffocating here," Jassy said, smiling. "You will slowly get used to it, don't worry," he assured. From there on, Hi Hello became a ritual for them.
One afternoon Iboton invited her for tea at a nearby stall. As they sat across a table waiting for tea, she asked, "Are you also a Record Keeper?" "Yes, now a Sr. Record Keeper", he replied. Tea was served, and as they sipped on, Iboton said, "next Saturday is a holiday". Jassy promptly asked, "What is the occasion?" "It is a second Saturday, and all second Saturdays are government holidays," Iboton said, "If you are free, we could meet for tea". "Here in this place?" she promptly asked. "No, some better place where we can sit down and chat without being hawk-eyed by all these people who see us every day", he said and smiled. Jassy's heart thumped with excitement, but she didn't accept the invitation right away. She told him she would confirm in a day or two. "Look, I just wanted to spend some time with you," Iboton insisted.
She felt good about what happened during the day. She felt nice that in an office where she hardly knew anyone, at least there was someone to communicate with. Nevertheless, she didn't want to be in a hurry to accept Iboton's invite, though she would eventually do so, she thought. She remembered experiences shared by one of her elder cousins, Martha, who spent a number of years in the valley, narrating how meitei (majority community of Manipur) boys befriended tribal girls as a pastime. She didn't want to give the impression that she was all game to accept any invitation. Iboton had always been impressed by the way Jassy carried herself from the time he first saw her. He prayed; that she wouldn't decline the outing suggestion.
And so it happened. They met at the Jimmy Café located right in the heart of the city, and spent quality time together. They had tea, coffee, and snacks, and chatted freely. They spoke about themselves, their educational backgrounds, their colleges and Universities, and their family members. Jassy, however, felt reluctant to disclose that her brother Asho was a member of the Naga Socialist Council (NSC), an outlawed organization fighting for the freedom of Nagaland. They discussed and exchanged views about contemporary issues such as corruption, unemployment, insurgency, ethnic tension, etc. On all of these, there was a convergence of views between them. Jassy enquired, "What was your subject in Masters, by the way?" "Public Administration," he replied. "Did you have any specific reason for choosing that subject? After all, you did it from a reputed institute like Shanti Niketan" he told her that he wanted to start an NGO and educate people in public administration, the Panchayat, District Council, and even those in other state government departments. But he didn't have the resources to begin one.
"Were you born a Christian?" Iboton asked. "Yes, of course," said Jassy. "In fact, my parents and grandparents were also Christians by birth, because the Tangkhuls embraced Christianity as early as 1896, through Rev. William Pettigrew. He was a Baptist pastor. That's why Tangkhul area is dominated by the Baptist Churches". She continued, "Catholics came much later to Ukhrul district–in the early fifties – but they delivered in the critical area of education. They took education even to remote places". Iboton nodded in appreciation and said, "You are so well informed." "Oh, come on, this hardly is knowledge," Jassy brushed. "By the way, have you realized one thing?" Jassy continued. "No matter what we studied, we are 'Record Keepers' in the department of Food & Civil Supplies". Both of them laughed heartily. "Destiny my friend", Iboton quipped. They agreed it was a day well spent, and decided to meet more often. They bid goodbye to each and parted.
The following week, Jassy was shifted to another room by the Section officer to train on the job with the help of one senior staff. This deprived them of visual contact opportunities. The tea breaks, therefore, were much looked forward to. One afternoon as they sat in the tea stall, Iboton told her that the week ahead would have two public holidays–Patriot's Day and Independence Day. "Oh yeah, good!" Jassy reacted. "By the way, what is the significance of Patriot's day?" She asked. Iboton summarized, "During the Anglo-Manipuri war of 1891, British soldiers martyred several patriots of the then kingdom of Manipur, who fought gallantly under Major Paona Brajabashi. Upon losing that battle, Yuvraj Bir Tikendrajit, General Thangal, and Major Paona were hanged on 13th August in front of the public at Pheidabung, which is now known as Bir Tikendrajit Park", Jassy thanked him for enlightening her with that input.
They made plans for the holiday. "Come to my place," she said. "No, your people would take it otherwise", was Iboton's prompt reply. Jassy told him she was not under the scanner of any relative because she lived in a rented house that belonged to a Meitei family. She questioned him, "Aren't we matured people who knew what we are doing? Why should anyone get ideas out of friends meeting each other in any case?" She continued, "And why on earth should we be bothered by what people think about us?" He agreed and accepted her suggestion to meet at her place. Thus, a friendship slowly but surely strode on the road to a relationship.
That night before going to bed, Jassy closed her eyes and reflected on their journey of friendship. She relished every bit of them. She suddenly felt strongly drawn to him by his unassuming nature, frankness, timidity, and even by some of his funny habits. She questioned herself, "Have I known him enough?" She believed she did, and even as her desire to cement their relationship became compelling within her, she felt guilty about one thing – not disclosing to Iboton that her brother Asho was a member of NSC. She decided she would disclose it to him when they meet the next time. She decided that she would tell him the truth for holding the information back–that she wasn't sure how he would react when he knew of her brother's affiliation.
On 13th August, they met at Jassy's place. They sat on Hand-woven cane stools, lit the firewood, brewed tea in a small sooty kettle, and drank. Suddenly Jassy said, "I have a confession to make", baffling Iboton a bit. "I am guilty of hiding a fact from you; I didn't tell you that my brother was a member of the NSC because I wasn't sure how you would react to it. And for that, I seek your pardon," she pleaded regretfully. "What has that got to do with our relationship? In any case, as an individual, you enjoy the freedom to take your own call on certain matters. Do you really think you should commit everything to me because we are friends?" He asked. She didn't answer but looked at him in his eyes, and he into her eyes. A brief silence descended, and the inevitable finally followed. They hugged and clung to one another, his firm grip almost making her breathless, as long as they could, kissing, caressing, fondling, until Jassy reminded her, "we are without protection".
From there on, they continued to meet each other and kept no secret about their relationship. When her two elder cousins, Martha and Apem, came down to Imphal, she took him and introduced him to them. They looked happy and satisfied with her discovery. The worry, however, began when one-morning Jassy called up Iboton to say that her period has since been delayed. "What? Despite all the precautions?" He asked. "I don't know too," was her worried response. Iboton showed up quickly at her place and took her to a known doctor. The test result confirmed the suspicion. As they sat to have breakfast in a nearby stall, Iboton held her hands and said, "Let's elope". "What?" Jassy exclaimed. "My Church will never accept me as a member worthy of a devotee," she said, wearing a morose look on her face.
Iboton understood all of that, but he realized delaying things would complicate matters even more. He tried to make her understand. "Abortion is out of the question. Therefore, if we elope, it would at least lead us to lawful Hindu marriage, since it is an accepted social norm in a meitei society. We will leave the responsibility of convincing your family to my family elders". Jassy listened to him quietly, her thoughts wandering in search of some solution. She found none. Finally, they decided to choose that option. They drove off to Sugnu, the southernmost suburb of Thoubal district, and spent three nights in a tiny guest house, with no attached toilet, nor an in-house food facility. The die was cast.
Asho did well at Saint Anthony's College, and also at NEHU and secured good grades. He read extensively outside the textbooks. He read about Special Administration Regions like Hong Kong, Macau, and also Northern Ireland, trying to understand what 'one country, two systems' arrangements were about. The visionary in him was perhaps already thinking about the likelihood of similar arrangements between India and Nagaland. He also took a keen interest in debates and discussions on the Naga political issues,' He read how educated Nagas had as early as 1930, and requested the British regime, not to club them with India when they leave the country, because Nagas never remained under any regime, but lived as an independent nation. He read about Phizo, and other Naga freedom fighters, the signing of the Shillong accord, the 16-point agreement, etc. Deeply entrenched in the Naga political issue, he joined the NSC as soon as he left university and remained underground. Over time, he developed a dislike for the meitei community because he perceived them as a community complicit in India exploiting the Nagas. He also saw them as a community, systematically manipulating tribal rights and looking down upon them.
When the news of his sister had eloped with a meitei boy was conveyed, he became furious. He told his parents to disown her immediately. He warned them, she must not be seen in any part of Tangkhul land, leave alone in Huining. Under pressure, the elders refused to meet the emissaries of the Thingujam family who came to ask for her hand. They were told that since she went against the family tradition, they will have nothing to do with her. They went back disappointed. The Thingujam family, however, went ahead with the marriage plans. A couple in the neighborhood agreed to assume Jassy's parents' role, and the marriage was solemnized in the Thingujam courtyard in Sagolband. Tampha, her mother-in-law, treated her as her own daughter, helping her wipe away much of her emotional wounds.
When Jassy delivered a baby boy, the news filtered to her family through different channels, making her mother restless. She longed to look at the little one, hold him and caress him. Thoughts of him consumed her, and pushed her into bouts of insomnia. She decided she would go and see him. But she was discouraged for two reasons; Asho's diktat was known to the entire village, and also to the NSC, where he held a senior position. It would amount to humiliating him if violated. Secondly, Shinning herself was not sure how Jassy's family would receive her. She shelved her plan. On the other side, Asho had also realized the consequences of the drastic decision he took and regretted it but didn't have the courage to revert, though he was deeply turmoiled. For Jassy, time was the best healer! Her husband, her newfound family, and above all her son, helped her to forget the past. Life moved on.
In September 1998, Asho was arrested in Dibrugarh by Assam Police with three other NSC members. While the rest were detained in Assam, he was requisitioned by the Manipur police in connection with some cases where he was named. The Police prayed for his custody warrant and brought him to Manipur. Being one of the important leaders of the NSC, Asho's arrest made big news in local newspapers. Iboton showed the news item to his wife. She thought she should at least look at him once, as they haven't met each other since 1989. Her mother-in-law knocked on every possible door, using her connections to arrange a meeting. She wasted three days trying to get an appointment with the Superintendent of Police. When she ultimately got it, she convinced him. The SP directed the concerned DSP to facilitate a private meeting.
The next day, Tampha and her daughter-in-law reached the office well in time. She waited in the DSP's office, while Jassy waited in an adjacent room. When Asho was ushered in by a guard, Tampha stood up and greeted addressing him as Ibungo, a term used to affectionately address a male offspring. "I am Tampha, mother-in-law of your sister Jassy. We brought some food for you… can I call her in?" She pleaded with folded hands. Asho agreed. When Jassy walked in and called him "Ameisho" (Tangkhul way of addressing an elder brother), he looked on for a while, confused by her plump look compared to when they last met, but recognized her eventually. Jassy cried inconsolably, holding her brother's hand, pleading for forgiveness. "Forgive me Ameisho, please forgive me", she said. He didn't respond, but broke down. So did her mother-in-law.
Still crying, Jassy said to her brother, "I have a three-year-old son whom I want to take home for our parents' blessings. Allow me to visit them Ameisho". After a long pause, then clearing his throat, he said,
"Yes, you can come home."
John S. Shilshi is a retired IPS officer, who passionately follows the lifestyles of common people. He had recently authored two books (memoirs), 'Vale of Tears: Untold stories of violence in Manipur', and 'From Heemal to Hilton–The Kashmir story'. He contributes articles on social issues.