Long after she left her parental home, years after whole chapters of her life had blurred and faded from her mind, she remembered her life in her birth home with the startling clarity of eidetic memory.  She remembered every nook and cranny of the house – the 'newspaper corner' where all old newspapers were stacked, the wide teakwood swing, jasmine creepers running the entire length of the compound wall…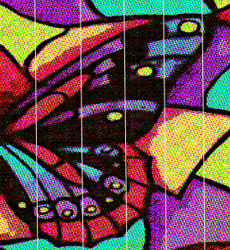 She remembered the smells of the house – the thick fragrance of blooming jasmines and magnolias made heavier by the tropical heat…
She remembered the tastes of the house – thick wedges of raw mangoes rubbed with a mixture of salt and chili powder, their sharp tartness making her mouth pucker and one eye close in an involuntary wink…
She remembered the sounds of the house – the clinking of glass bangles as the women went about their work, the rhythmic chanting of mantras with its strangely hypnotic and soothing cadence, her grandmother's tuneless humming…
She remembered the feel of the house – it was here that her mind lingered – like a single dewdrop trembling on a jasmine bloom…
She remembered the feeling as love. Nobody ever told her that she was loved in so many words. But the love was there – in the safety of daily routine, the calming thrum of a well-run household, the steady certainty of unbroken tradition and orthodoxy…
Even as she remembered, the house collapsed into layers of gossamer and wrapped itself around and around till it became a cocoon. She became the butterfly inside and she felt safe, sheathed in layers of familial protection. Knowing the time had come, with the certainty of flight looming, knowing the cocoon would let go and she would soon be in the outside world for therein lay her destiny – she hoped…hoped to make time stand still if only fleetingly, hoped to linger in the warm darkness just little while longer, hoped to keep the light of the world out if only for a moment more.
Long after she rejected the strangling confines of Brahmin orthodoxy, long after she turned her back on the strictures of tradition…
Long after she left her birth home, she would recall her days there as the Innocence Years.
1910 – Vellore, South India
The twilight gray ceded gracefully to the soft white light of the rising sun. Parimala shook her sleeping daughter lightly and said in a soft voice "Chaya, wake up". Chaya struggled to open her eyes. Not quite fully awake, she wished she could curl up for a few more minutes. She yawned, stretched and sat up groggily and looked up at her mother's smiling face and gentle eyes. "The day begins" Parimala said. "Get up, daughter".
Chaya knew that her mother's day had begun much earlier – at the crack of dawn, to be precise. The first to be up, she would have gone to the backyard, finished her morning oblations, drawn water from the well, bathed under the moon and stars still visible in the twilight sky and only then entered the house. By then, the rest of the grownups would have woken up one by one – father, uncle, aunt, grandparents – the milk man would have come by as the first haze of orange lightened the gray skies, milked his cow right there in the front yard under the watchful eyes of her grandmother.
Responding to her mother's gentle call, ten year old Chaya reluctantly sat up. Her brother Kittu and two younger sisters, Indra and Veda, were still sleeping.  She knew that her cousins, Saama, Satya and baby Pandu, were sleeping in the next room. With the exception of baby Pandu, who had just turned two, the children were all between five and ten years of age.
Being the eldest daughter of the house, Chaya was woken up earlier than other children. She was being trained to take on household responsibilities in preparation to be given away in marriage. She had been pulled out of school after completing her fourth grade.
Her father had been willing to let her study – "we haven't even found an alliance for her. Let her be in school till a good match is found. I will pull her out the minute her marriage is fixed" he had reasoned with her mother and grandmother.
"And how to you propose I train her for married life if she is going to be reading the white man's language all day in school? She already has more education than a girl needs. All that will come out of more education is a swollen head and which man wants that in a wife" and on and on….The women relentlessly wore her father down till he gave in.
But still she did not resent her mother. They lived in a Brahmin stronghold and every girl her age in the neighborhood was either already married or betrothed.
"Trust me Chaya" her mother always said and she did – unquestioningly and totally. So she willingly stopped going to school and prepared to become a wife.
Her father thrilled her by quietly bringing books from the public library and admonishing her to read them only after she had finished all the chores her mother had laid out for her.
Envying the other children their sleep, she stepped out of the room and into the hall. The hall was the main room in the reasonably large, reasonably upper middle class house that Chaya's family lived in. It was a spacious room dominated by a handsome, wide teakwood swing with sturdy iron bars. A stack of newspapers sat piled in one corner of the room. Low wooden planks were stacked in another corner, to be pulled out and offered as seating to honored guests. There was no other furniture in the hall. In fact, the entire house boasted a single piece of furniture – a writing desk and chair that nobody ever used, that sat forlornly in the corner of her grandfather's room, collecting dust.
Three bedrooms annexed the main hall. The smallest one on the left was occupied by her grandparents. The biggest was her parents' room on the right. Her father being the eldest son of the house got to have the biggest bedroom. The room right next to theirs, bigger than the grandparents room but smaller than her father's, was occupied by her uncle.
The hall was the familial hub. Here pujas were performed, guests received, marriages fixed, conversations were had ranging from the mundane to the sublime and everything in between. It was also the place that parents every once in a while banished their children at night when they wanted the bedroom to themselves to "talk".
Chaya in particular never understood why she couldn't be around when her parents "talked". She was especially enraged one day when her parents interrupted her reading.
"I'm settled. I'm halfway through this book" she had cried. Indeed she was. She had laid out her bed, covered herself with a blanket and positioned the reading lantern to shine the most light on the book that she had carefully laid out on the pillow. Lying on her stomach with her elbows on the pillow and her chin resting in her cupped hands, she had been immersed in "The Wind in the Willows" when the children were ordered unceremoniously out of the room. She would tolerate anything but having her reading interrupted.
"What do you have to talk about?" she had asked her mother crossly
"Ask your father" her mother had replied enigmatically "He's the one that wants to talk. I keep saying four is enough, four is enough but will he listen? No. His talking will be the death of me one day"
The children spent a rather sleepless night worrying that their mother was dying at the moment. The next day, to their collective relief, they found her not only alive but in pretty high spirits.
Chaya crossed the hall to go inside when she saw the men of the house out front. Her grandfather Venkobi Rao was sitting on the veranda reading the newspaper. The grand sire and reigning patriarch of the family, he was no stranger to tragedy. He had seen one son die of typhoid at age three, a daughter die giving birth to her first stillborn child and another daughter become widowed after four months of married life. She had chosen to live in an ashram but had succumbed to the dysentery epidemic that had recently swept across all of Southern India. So he lived with his two surviving sons in this house, accepting the tragedies with grim fortitude and unshakable belief in karma.
She saw her father, Pandu, cleaning his teeth with a neem twig and talking over the compound wall to his neighbor. Her uncle, Sridhara, was doing yogasanas in the veranda.
All three men were short and wheat complexioned, with varying degrees of stoutness, not more than five feet four, and all of them were bald sans for kudumi – a small tuft of hair tied in a knot at the back of their heads. They wore white dhotis and were bare-chested with a top cloth slung over their shoulder and a janivara slung across their chest. Their women were shorter than them and wheat complexioned with varying degrees of stoutness. They wore nine yard saris and tied their hair in a tight chignon with a bright red vermillion dot dominating their foreheads. The children wore dhotis or skirts depending on their gender.
Amongst them all, Chaya was the fairest. In fact, she was milk white like a British memsahib. Her long dark tresses and large, limpid black eyes and the ubiquitous vermillion mark of Hindu women on her forehead only accentuated her fairness. Slender and long limbed with sharp features and even white teeth, she was stunningly beautiful. Chaya herself was rather proud of her good looks. But hers was a guileless conceit. She was a good natured girl with an easy smile and quick laughter. Her striking good looks combined with her naturally sweet disposition made her an object of envy bordering on hatred for the girls in the neighborhood while simultaneously the object of admiration bordering on worship for every male with a pulse.
"Chaya puttu…are you up already?" her grandfather said. He said this unfailingly every day, as if surprised that she was up so early, even though she was always up at the same time "ask your ajji to hurry up with the coffee" he added revealing his real reason for taking his eyes off the newspaper.
A sudden gust of wind brought with the sweet smell of oleander in full bloom in the front yard. There was also a neem tree in the far right corner of the yard. Along the narrow sides of the house, Indian Magnolia, moonbeam and jasmine flowers bloomed. Decorative hibiscus and chrysanthemums lined the front wall.
The backyard had a coconut tree and two mango trees. The trees provided plenty of shade and kept the house cool.
Chaya crossed the hall and entered the courtyard – the central portion of the house. The small open courtyard had a latticed roof and a hallway running all around it. Four rooms surrounded the courtyard – a puja room, a store room, a large kitchen and a bathing room (which was rarely used as almost everybody bathed under the well). A tulasi vrindavan was placed exactly in the center of the courtyard.
Chaya went past the kitchen and saw her grandmother, Rukumi, filtering the thick coffee decoction into a mug while her aunt, Nagamani stirred and carefully the watch the milk ready to boil over at any minute.  
She went down the steps leading into the backyard and saw her mother collect the kitchen utensils that had been washed the previous night and take them into the kitchen. The morning routine was already well under way.
She went first to the 'women's room' at the far right end of the back wall and returned shortly to the well to finish her morning oblations.
Nearly 6 feet in diameter, the well dominated the backyard. Brimming with clean, clear water, it was the sole source of water supply for the entire household. Chaya loved the well. "It's such a happy well" she would say, to the amusement of the adults. It was situated near the kitchen with concrete flooring running all around it. In front of the well, closer to the back veranda was the washing area. There was a half coconut shell filled with wood ash and coconut husk. Kitchen utensils and vessels were washed here. On the rear side of the well was the bathing area. On a small ledge jutting out from the side of the well were four copper tins – one filled with tooth powder, another with paddy husk ash, the third with turmeric powder and last with shikakai – acacia concuna powder used to wash one's hair. There was an open wood stove next to the well and a brass drum. The stove would be lit and water heated for special occasions and colder days. A drain on either side of the well funneled the water into the garden area where cilantro, curry leaves, cluster beans and gourd grew rather wildly.
Parimala was there, filling the drum with water for everybody's bath.
Chaya took the fresh, tender neem twig her mother had put out for her and dipped it in the tooth powder, sat down in a squat and brushed her teeth. Her father had recently started buying tooth powder from a local merchant. It had ground cloves and cinnamon. She loved how it tingled and how fresh it made her mouth feel. It was certainly better than brushing with just paddy husk ash like she used to.
"Make sure you clean your tongue. Don't forget to wash your face and feet after brushing" Parimala kept up a constant stream of admonitions. Chaya never failed to do the above mentioned things, but that never stopped Parimala from reminding her every day.
"The water feels cold. Heat up some water for my bath" Chaya said
"Are you mad? It's summer. By the time you finish mopping, the sweat will be running down your back. Who wastes firewood heating water in the summer? I will be the laughing stock of the neighborhood if four people in town heard of it" Parimala lived and died by what the neighbors thought.
"If the neighbors knew" or "If four people come to hear of it" was a constant refrain heard from her.
"Who are these four people amma?" Kittu had asked innocently and with genuine curiosity one day at dinner. "And why are there always only four people? Where are the others?"
Not having a logical answer, Parimala had huffed "mouth on him he has, this boy" even as the other grownups laughed.
The adults were having their coffee when Chaya and Parimala entered the kitchen.
"Arrerere puttu! So fresh and beautiful first thing in the morning" Rukumi said affectionately to her favorite granddaughter. She was sitting on the floor with a tumbler of half-drunk coffee in her hand. Chaya went running up to her and putting her hand around her neck, hugged her from behind.
"How beautiful, ajji?" this was their daily shtick.
"Beautiful like a jasmine flower" Rukumi said reaching out behind and patting Chaya's cheek.
Parimala poured the milk in a tumbler and reached for the tin of 'powder mix' on the shelf. Parboiled rice, roasted lentils, peanuts and a small quantity of cashews and almonds were all mixed together and ground into a fine powder. Parimala added a heaping spoonful of this mixture along with a little sugar to the hot milk and gave it to Chaya to drink.
"Now go finish all your duties and only then come back to have food and not a minute before. Do you understand?" her mother said.
"Yes, yes finish all your work puttu. I will have a best feast waiting for you when you come" Rukumi whispered affectionately to her granddaughter.
"What if I feel hungry before the work's finished"?
"Even if you do, control your hunger puttu. Remember, when you eat after ALL the work is finished…."
"Even plain rice and pickle will taste like a king's feast" Chaya finished.
Rukumi laughed in delight and sent Chaya on her way with an affectionate pat on her rump.
Her morning duties included sweeping and rinsing out the front yard and drawing a rangoli, sweeping and mopping the front hall and two annex rooms, preparing the prayer room for the morning worship, and finally cleaning all the lamps in the house, filling it with oil and replacing the burnt out wicks so that they would be ready to be lit in the night.
"Why don't you just get me married to a rich man amma?" she had asked her mother one day "That way you don't have to train me for physical labor"
"I'm training you for life puttu" her mother had answered "Even a rich man can become poor. Life's fortunes can reverse. And if they do they will reverse hardest for women. Train your bones and flesh now Chaya while they are still willing to bend to your will. You cannot make them bend once they have become used to a life of leisure"
So, Chaya mopped and cleaned and swept and did everything her mother asked her to. She did it willingly, trusting in the wisdom of her mother and grandmother and the generations of women who preceded them.
She quite enjoyed the chores really – especially changing the oil in the lamps. She would pick up a basket with cleaning cloths and two cans of oil – one for paraffin and one for castor oil from the storeroom. Armed with the oils and dust cloths, she would hum softly to herself as she went around the house and wiped the soot off all the wall lamps, floor lamps and lanterns in the house. She made sure that not a single lamp went unattended. She filled it with oil and checked the wicks. It gave her great satisfaction to know that the clear light from the lamps were a result of her effort.
But drawing the rangolis alone she hated. She hated this one chore with all her heart and felt herself shrinking internally when the time came to do this hateful task. For Chaya was a good girl but an artist she was not. She could not draw a straight line if her life depended on it. The rangoli was the pride of Hindu households and the women and children of the neighborhood vied with each other in coming up with complex and intricate patterns that showed off their artistry to the world.
Chaya was quite possibly the sole exception in the neighborhood.
Every day she drew the smallest and simplest shape that could pass for a rangoli and was pleased when her very first attempt was passable. Sometimes, when she stood up to survey her finished 'art' work, even she would be aghast at how bad it looked and start over again.
Her obnoxious younger brother was always there for her when she came in.
"Is the artwork ready for viewing Madam Artist?" Kittu would heckle
"Shut up wiseass. Why don't you draw the rangoli if you are so good?"
"I'm a BOY. I don't have to. You're a GIRL. You're supposed to know how to draw" Kittu would have continued if Chaya hadn't shouted "Ma……." And her mother hadn't almost at the same time yelled from the kitchen "Kittu….don't make me come out there"
And life chugged on and Chaya found herself lulled by the daily routine, her life falling into a familiar pattern of chores, lunch, afternoon reading, evening tiffin, dinner…
One day she noticed that the castor oil was running low. She would have to go to the store a few streets away and buy more. It was her job to make sure that there was always enough castor oil in the house.
"Ma….the lamp oil is almost over. Give me some money. I'll go buy more" she called out to her mother.
"I have to get the cooking oil refilled in a couple of days. I'll settle all the accounts at that time. Tell Ramaswamy" her mother replied.
Chaya took the can, opened the front gate and started out to Ramaswamy's store which was a couple of streets down from where she lived. When she arrived Ramaswamy greeted her garrulously with open delight and affection: "Ah… here's my little white rani! You should have been born a memsahib, with your color… Lamp oil over, I see? You cane at the right time, rani…A fresh batch of castor beans all cooked and cleaned arrived just this morning. Fat, fat beans full of oil. I'm almost done pressing it. Wait here and I'll fill the can for you in a few minutes"
Chaya sat down under a neem tree and waited, pleased at being called a white rani. She took in the sights and sounds around her, people going to work, washer men walking with huge loads of laundry to the river, urchins playing in the street. As a girl growing up in an orthodox household her movements were restricted and Ramaswamy's store was one of the few places that she could go to alone. She enjoyed this time away from the confines of the house and breathed the fresh air and was filled with a sense of wellbeing.
While not rich, her family was comfortably upper middle class. Her grandfather had built the house that they lived in. Her father worked as an administrative head clerk in the police academy while her uncle worked as a junior accountant in the municipality office. Their combined income was enough to meet the family's simple needs. Life clipped along at a gentle pace, the daily reassuring routine broken every now and then with colorful, noisy festivals and celebrations where the children could fill up on sweets and savories and got new clothes and gifts. Chaya loved the excitement and bustle of preparing for these festivals and enjoyed helping her mother in the kitchen.
Finally, the oil was ready and Chaya took the can after passing on her mother's message to Ramaswamy and started walking home. The walk back was considerably more difficult with the heavy can of oil. Chaya stopped several times along the way and transferred the can from one hand to another. When she finally reached home she was starving. Still she paused at the front gate and quickly reviewed all the morning's work. Her mother was extremely particular that food should be eaten only after all her morning duties were done. Satisfied that nothing had been left undone or incomplete, she made her into the house.
Vani Srinivasan is a US citizen, originally from India. She has been a corporate IT person for over twenty years. In all that time, reading was her passion, writing her dream. She has been privileged for the past four years in pursuing her dream of writing full time. She lives in Pittsburgh PA with her husband and son.