[This story is completely a work of fiction.]
It is a June evening and Sun is setting down. The Goldenyellow sky above is getting murkier and the air is moist and humid. Kashmir is in full bloom and everything in and around it is adding to its beauty. Here in the village far away from the city's pollution, dust, chaos and rush everything seems in peace. The bare mountains are giving a bright contrast to the sky colors and the stream flowing through its lap adding pace and freshness. The vast paddy field with some trees at scattered distances is filled with some cattle grazing with ease and comfort. The air is moist and humid. It is a June evening, but the sun is yet to set. In a separated patch of land isolated from the lively paddy fields enclosed by rusty barbed wires with some bushes around it some motion can be seen. One can also hear the human grunts as if some extra effort isbeing pro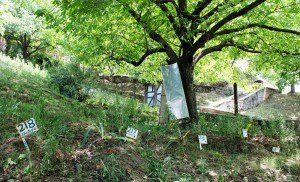 duced. Under a naked apple tree which has stopped yielding since ages is a big built up figure raising his arms up and down every second. The last yellowish rays of the setting sun strike his forehead making his face flow. The light falling on his sweat beads distract the light in several colors making his face visible. Wrinkles on his cheeks with salt and pepper beard and eyes like bullet holes, he looks like a common Kashmiri country cousin. Wearing his gray turned white skull cap he is Abdul Kareem, the lone Grave digger of the area. With a fake Armani jacket and a loose worn-out pajama Kareem is doing what he has been a part of from last five years. He is digging a grave. "The last grave i will be digging" is what he told me. It is a special one.
It is 1993 and since the insurgency began in the valley many intruders and young men, women and children have been killed. Many were killed in their homes, some on streets, some in Mosques and some in torture cells far from their homes. Some weretagged as foreign militants and killed in fake encounters. Many were even killed on the borders after they were picked from the cricket fields, shop-fronts, mosques, market, schools, torture cells and homes of course, then thrown into big army trucks and exported to the faraway borders where no one knew them.
They were killed there and left alone in vast and open jungles for vultures and jungle predators to feed upon. Many bodies became feast to such predators and their flesh decayed in the open vast fields. But some bodies were luckier to be buried in the nearby towns when the Police or Army men would come up to the villagers and ask them to bury the bodies. Villagers were told that the bodies are of unidentified gunmen which were killed in cross firing and encounters near LoC or in nearby towns. They were buried in anonymity; with no name on their graves, just a mere sign or a symbol. Here they were buried in numbers and every single grave had a number of its own. Kareem himself buried them, marked numbers on the graves and took the belongings of the bodies home hoping if anyone could be identified later by their parents or family members.
Kareem is digging graves for the so called unidentified bodies since 1992 when he was handed the first body by an Army major and told him that the dead body was of a foreign militant. He did the Job and got some money from the Army Major in return. Since then he hasburied exactly 126 bodies and is the lone care taker and owner of 126 graves. Days ago he laid a Young man with curly hair and shiny face in a grave.His face looked like he was in sleep but below his face were the deep holes from which blood kept oozing out every minute Mutilated hands with a punctured left eye the man to be buried looked a beautiful chap trying to act of being dead. Kareem has seen hundred faces like that. Before burying the body,Kareem had found a small pocket Quran, a comb and a wrist watch from his possession and as usual Kareem kept the things with him hoping these things might one day help the dead body's family members to trace their son's body. He knows that all the bodies are of Kashmiri men and the Army and Police are trying to befool him by saying that these bodies were of foreign militants or the unidentified ones. He knows many families in Kashmir were waiting for these bodies to see again. Many mothers were waiting to kiss these bodies, many fathers waited to hug their Son and many friends waited their friends to return but they only hoped. He knew it all thus saving the belongings of these bodies and keeping them in his possession and hoping for these so-called unidentified ones to be identified one day or the other. He hoped the graves to be replaced by epitaphs with the names of the identified ones engraved on them. He hoped to witness the day when an identified one will be buried here. He hoped but kept on burying pieces of flesh, maimed limbs, punctured bodies, human skulls and what else not. He kept on digging graves and today was the 127th grave he was digging. 127th body laid to rest in anonymity. The special among all.
Kareem, now an old man whose memory seems worsening day by day still remembers the first dead body which he had buried in this graveyard. He still remembers it clearly when a young, heavily mustached and well-built Sardar Major with a deep green turban had come up to Kareem and asked him for the favors which he still is doing. A young somewhat 14 or 15 year old chap Kareem had buried that day. He had told me every single moment of the period when he was burying the body. The fear was in his eyes when he kept narrating me his first encounter of burying a dead body, smeared all in blood with loose flesh hanging down his face. The white pajamas stained in red blood, the Luxur ball point pen in his pocket, the mixed smell of some costly perfume and his blood, the Action shoes he was wearing and of course the countless torture marks and bullet holes in his body. He all remembered it clearly. I could sense and feel the pain when he recounted me how he buried his first ever dead body without any proper Islamic rituals. He dug a piece of land with no proper measurements or proper symmetry and pushed the dead body in the so called grave which he always says looked more like a hole dug up for an electric pole than a grave for a human body to be buried. It was his first experience but now he was a master in digging up graves. Master in burying dead bodies or sometimes even just pieces of bodies like limbs, arms, wrists and even skulls, he mastered it all. At first he was afraid of burying body in large numbers but then after every passing day it became a daily routine for him. It didn't bother him anymore as it did in his early days. He sleeps peacefully now with no nightmares of the same dead bodies which he had earlier buried. He has buried so many bodies that it hardly matters him now. But the only thing which haunts him is his son, Rashid, his missing son. He misses him a lot.
Rashid, a graduate from the nearby college was Kareem's only son. His last hope! With Kareem's wife dead decades ago Rashid was the lone companion of Kareem. Kareem had planned so many things for himself and his son but all were washed away on a hazy Sunday morning two years back. Rashid, as it was trend and still is, disappeared in thin airthat day. Many say he had crossed over to the other side of the border and now is an active militant operating in city outskirts, but it all hardly matters to Kareem nor he believes them; he just wants to see his son again. He just wants Rashid call him "Baba" one more time again as he used to. He just wants to see Rashid play cricket alongside the village stream one more times. He just wants his son to hug his father a last time. He just wants to see his son again, may it be as a Hizbul commander or as a coolie of city or as a successful cricketer wearing neat Cricket uniform which Rashid always wanted to. Kareem only wants a single glimpse of his son's smile.
"He has not crossed the Loc. He hasn't! I know he wouldn't leave his lone father like. He might be in a problem and that's why he is not returning back. He is somewhere close to me and will come back some day. I am waiting for him", Kareem said me one day. He knew that his Son, Rashid will come back one day.
Rashid was a young fellow, having a tall slim body. His facial looks were as same as of his father; Kareem. He looked like Kareem did in his early days when I saw Rashid every time. Before Rashid went missing I saw him playing cricket with his friends alongside the village stream a day before. He wore a blue track suite that day. Kareem had told me that he had recently brought Rashid a track suite from Srinagar. His son had asked him to buy one. I could see a faint mark of a sign on his track suite, both on trousers and his T-shirt. It carried a Nike logo. He always wore a pendulum round his neck carrying the name "Allah" written in Urdu. Kareem had also brought a pair of red winter gloves for Rashid and a wrist watch. It was from the makers of Titan. Kareem had showed me the watch before gifting it to his son when he passed his graduation. He also gave me the reason for buying such a pricy watch for his son. "My Son has made me proud and this a little gift for Rashid. Isn't it good? I brought it from LalChowk. Only Srinagar men wear such trendy watches but I wanted a same on my Rashid's wrists. He deserves it."
Since Rashid disappeared things became much tougher and worse for Kareem. His health worsened, he went out of money as he couldn't go for day's work because of his health and adding to the miseries of his just after month of his son's disappearance he was asked to dig graves for dead bodies.From young men as old as 10 years to the older ones up-to 70, Kareem buried them all. He once also buried a girl whom he said to me wouldn't have been more than 8 years old. She was raped and Kareem could tell that when he saw blood stains on her Shalwar covering her private parts. This incident hit him. It has been almost two years and he has been burying dead bodies since. He has ended up keeping a beard in these two years and his hair has also turned Whitish-grey. He once told me that he almost remembers every dead body he buried. "I can't forget the faces of the ones whom I buried. They are now a part of me. They are like my family now. I see them with me every time and I could sense it. Many of them were like my Rashid. They were like him. They were my sons." He had said puffing a cigarette with his damp eyes which looked full of grief and pain.
One night I heard a knock on my door. I checked my pocket watch and it was 12:00. I went up to the door and saw Kareem through a crack hole. As I opened the door he hugged me with tears rolling down his cheeks. He cried like a child and I kept holding him in my arms as he kept saying, "I saw him in my dream, I saw him in my dream. He is in danger. He needs my help, my help. He needs help." He kept on repeating same words until I brought a cup of water for him which he drank in a single swig. His hands were trembling with fear and I could feel his heartbeat as I kept him in arms trying to pacify him. "What is the matter? Is everything alright? Soruy cha kherey", I had said but I knew what the matter was. I knew what he was going through and what was bothering him at this very time. "Rashid seab came in my dream today. He was tied to a tree by a rope and was crying for help. They kept beating him with gun butts and iron rods. He kept screaming. Blood was oozing from his every body part. They were merciless."  Kareem seemed very tense as if it was all reality which he had said to me.
The next day he said to me that he will go to a shrine which was in a nearby town and pray for Rashid's safety there and will come back till dusk. He bid me a goodbye and left to come back till evening. I too went back to my house for my hourly Hookah.
The day went peacefully and I was having my late afternoon nap on my veranda when a sudden knock at my door woke me up. A tall black individual was at my door wearing an Army uniform with a rifle in his left hand. It was not so shocking to see an Army personal at my door as they would often come to visit our village for some official work or just to say a hi to me. I guess they wanted to show that they too have respect for the village sarpanch.  But this time I could sense that it was not all about a mere hi and something was wrong. He pointed me towards his boss and from a distance I recognized him. He was Sukhbeer Singh, Major 22 RR and the same old creature which had handed the first dead body to Kareem for burying purposes. Sukhbeer never came himself to me as his only work was with Kareem whom he gave dead bodies to be buried. I understood what the matter was as i walked up-to the Army major and said, "Saab, Kareem is not here. He has gone to a nearby town and won't come back till evening." I knew he had again come with a dead body and was looking for Kareem to bury it. The Army major understood my short speech and asked his men to keep the dead body in the Masjid compound till it will be buried my Kareem. "Ok, when will Kareem come? Tell him that Saab has asked to bury this body too and also tell him to visit me tomorrow." His men kept the dead body in the Masjid compound and left. I went back to my Hookah and waited for Kareem to come back and tell him to perform his daily routine as soon as possible. I didn't want the smell of human flesh reach the nostril of jungle beasts.
The evening was approaching and bright light of sun and the clear blue sky was changing its colors. I was eagerly waiting for Kareem's return, so were the others villagers too. After the dead body was brought in the Masjid compound no one from the village had gone to see whose dead body it was. Neither did I go to see the body. The dull light was creeping in as I saw          Kareem coming with a bag on his shoulders. I could see urgency in his walking. He walked with quick steps and was coming towards me. I stood up and welcomed him but he was in no mood to sit. "So, where is the body? It is getting late, I should bury him. Bashir told me that Major Saab had come up with a body and asked to bury it. Show me where it is?" I accompanied Kareem to the Masjid compound and showed him blood stained white cloth under which laid a blood laden and bullet ridden piece of dead meat and bones, I had thought. Kareem approached towards the dead body and as per his routine first checked his face. As Kareem lifted the white cloth from his face everybody standing next to the body closed their eyes and turned back. "Ya Allah, Raham". People kept saying in loud tones.  There was nothing like a face o be called, it was nothing there. Just crystal white bones and some tiny pieces of flesh hanging down his neck and his small portion of face. Eyes were missing and the upper jaw was broken. Such was the conditionof the body that he couldn't be even recognized. He was being tortured! No bullet marks and no shrapnel marks even. He was not a militant and if it had been so he would have had even a single bullet mark, but there were none. The legs seemed broken and the wrists bore round marks of circle as if his hands were tied with something. Same marks could be also seen on his feet too. It was clear the boy was tortured to death. Kareem as always was a part of this and this had no effect on him as he kept gazing the body. He was gearing for his usual work and before that he had to do some frisking; The legal frisking of Kareem which he always did before burying a dead body to see whether the dead body carries any object or something else which could be identified later.
Kareem went near to the body and began searching the pockets of the dead. He kept looking in his shirt pockets, his trousers, a carrying bag which accompanied the dead body and every possible place where he could find anything. He took a black piece of cloth from his pocket and kept it on the ground. I could see Kareemtaking something from the dead body's pocket. He remained like a statue gazing something which was in his hand. Something was wrong and from his back turned to me I couldn't see what it was but one thing was clear, something was wrong indeed. Kareem didn't move for a minute or so. Suddenly he placed his hand on his forehead and broke down. He cried loud and I kept cluing why he was crying. He never cried seeing a dead body ever, so why he was crying this time? Questions kept striking my mind and I couldn't answer any.
Is the dead body so much mutilated that it made Kareem broke down? Has Kareem never seen such a mutilated body before? Is Kareem missing is son? Or does the body make him think of his son? I couldn't answer any.
I walked towards wailing Kareem and kept my hand on his shoulder. It was my old trick to pacify my friend but he kept weeping. He put his hands on the dead body and kept looking him. It was unusual to see Kareem doing this. "He has buried such bodies 126 times then what is so special about this body which is making him do so." I asked myself. I bent forward and looked at his hand which had that black piece of cloth wrapped around the belongings of the dead body. I took that from Kareem and started to unwrap it. Kareem kept crying and his screams of "Ya Allah" kept piercing my ears. I unwrapped the piece of cloth and all of a sudden everything in front of my eyes went black except the things which I was seeing. As if these were the only things remaining in the whole world. My jaws wide open and my hands trembling, my legs shaking with fear and tears rolling my eyes; it all happened itself as I too broke down.
I put the piece of cloth on the ground and lent backwards. I couldn't believe my eyes as I recounted what I saw. The black piece of cloth was in front of my eyes and i kept looking at it and looking at it. The belongings of the dead body lay in front of my eyes and they were unfamiliar in any means. I had seen the objects before. A Pendulum with name "Allah" written in Urdu carved on it, a Titan wrist watch and a pair of red winter gloves; it were. I had seen them before. I looked back towards Kareem, he kept crying.
Rashid was dead and he lay before our eyes with his body boring every possible torture mark. No he wasn't killed in a Fake encounter, He was tortured to death. The Horrors of calm had made its way towards Kareem this time and he had bury him. He had to perform proper rituals to his son. He had to lay him to rest. With a sudden thud Kareem upstretched and left like a wave. He said nothing but his eyes, silence, cries and urgency to leave said everything. It was time for Kareem to dig his 127th grave. It was time for Kareem to bury his own son. Kareem had to do it one last time."This will be the last I am digging a grave and burying a dead body. I won't do it now. 126 graves I have already dug and this is the 127th. The last one." Kareem said as he left out for his last grave. I could see him walking past the paddy fields which lead towards the barren land which we called the Graveyard. The graveyard of "Anonymity"!
Kareem kept walking in the fading light and before he could reach the graveyard he turned back towards me and said, "I told you he has not crossed Loc. I told you he is not a Militant. Did you see the torture marks?"
"Kareem's wish will be now come true", I thought. If not all but still this grave, the 127th grave, at last will carry an epitaph bearing a name not a number.
"Shaheed Mohammad Rashid"