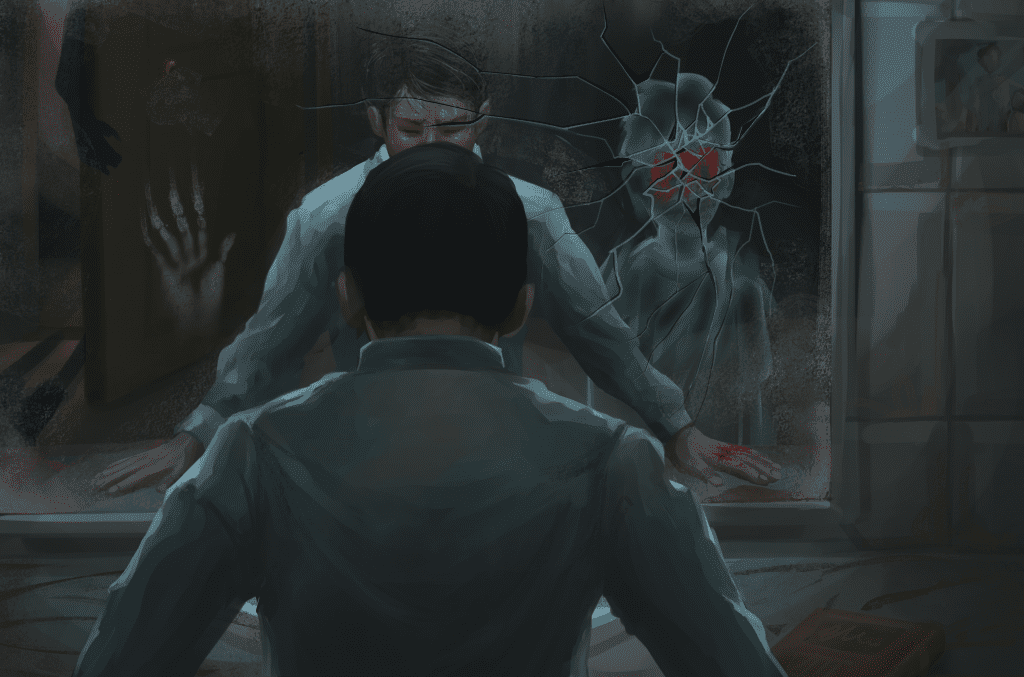 Name: M. Saravanakumar. M.A. English Literature. Works at a private college. A dark, well-built body. Black, trimmed mustache.
I leaned forward from the table and observed him. Whenever I do so, I fix a well-practiced smile of warmth and sympathy on my face so that the patient doesn't feel that it is a look of inspection. He had firm shoulders and firm eyes. It is very rare for such people to be affected by a mental illness. And if it does affect them, it is not easy to manage.
To put it in simple words, he had Schizophrenia. For patients diagnosed with Schizophrenia, doctors usually prescribe medicines in order to reduce the flow of electrical activity in their brain. As a result, the overall speed of thinking of the patient reduces from ten to one within a span of six months to one year. He would become like a vegetable. He would not be able to think for himself. Due to the reduction in electrical activities in the brain, there would be nothing left for the violent outbursts of the illness. Most importantly, he would not be a nuisance for the members of his family. In our city, whether one is mentally ill or possessed by a ghost, he/she dances. The person who stops this dance is considered victorious. But, I don't believe in medicines. I had faith in psychological treatment.
"You can explain your problem to me in detail. I have undergone formal education in this subject. I have been in this profession for the last twenty years. So far, I must have completely cured at least a thousand patients. I can definitely help you. Yes! I am your protector. At this stage, nobody can help you except me. Moreover, the both of us are educated," I said to him in English. There were two reasons why I chose to speak to him in English. One – He will not stammer while talking in English. Two – Since he is not fluent with the language yet, he will pause to think and only then speak. Also, in the present scenario in India, English gives the speaker the impression that he/she is speaking something intelligent.
"Yes doctor, after meeting you, I feel as though I can trust you completely. I feel that I can speak with you openly," said Saravanan. He combed his hair a few times with his hand. Perhaps this is a habit of his. He was an energetic young man with quick, sharp movements.
"Yes definitely," I replied.
"Doctor, do you believe in ghosts?" he asked.
"Whether we believe or not is not the problem here, right?" I said.
"Yes doctor, you said it correctly. Whether we believe or not is not at all a problem. These days, ninety-nine percent of people don't believe in ghosts. But, ghosts don't take that into consideration. I myself am one such person. I don't believe in them even a little bit. I would laugh whenever they would appear in Shakespeare's plays. But, men need ghosts. I think that it would be impossible to create fictional stories from life without them."
I noted down the name 'Shakespeare' in my notepad.
He went on. "But, a ghost possessed me, doctor. It didn't matter whether I believed or not." His face began to change slowly.
"When did this happen for the first time?" I asked.
"A year and a half ago. On December 28th last year. I had gone to watch a movie," he replied.
"Which movie?" I asked.
He smiled slightly and said, "It was not a horror movie like you think. It was a good movie: A Beautiful Mind."
"Yes, that is a good movie," I said.
"Usually when I come home late in the night, I unlock my room on my own and sleep. I also have the habit of eating out with friends," he said.
"Do you drink?" I asked.
"No, I don't have any such habits," he replied calmly.
"Hmm…That's very good," I commented.
"That night, I was on my way back home. As I was coming near my house, it looked as though a man was waiting for me outside the compound of my house in the darkness. I went closer, wondering who it could be. It looked as though the man had a slight hunch back. When I observed carefully, I realized that it wasn't a man, but a shadow. It was the shadow of the Crotons plant that had grown outside my house, cast upon the wall. It was surprising to see the shadow of the plant resemble that of a man so precisely. It took some time for the palpitations to slow down. I unlocked my room, went inside, and turned on the electric light. When I looked outside, the shadow moved. It was the same man! That is when I felt the first wave of terror.
'Who's there?' I shouted and peeped out. It was the same shadow that I had seen outside. I realized that the shadow had only shifted its position when I had turned on the electric light. Though that gave me some amount of relief, my heart continued to beat rapidly. I locked the door. When I turned around, the same man was standing in the corner of my room.
'Aaaaaaa….' I screamed.
My father asked from outside, 'What happened, Kumar?'
'Nothing,' I replied. Then I realized it was just the shadow of my shirt hanging on the clothesline," he said.
"Have you ever seen that man's figure before?" I asked.
"No," he replied.
"Were you talking about this topic with your friends that day? Or any such related topics?" I asked.
"No. I can tell you with certainty because I myself have thought about these questions many times."
"Hmm…okay. Go on."
"After that, I went to sleep. It must have been after midnight when I was awakened. One could hear the usual sounds of the night like the sound of the rotating fan. The mind slowly floats out of the unconscious to the conscious, right? It was that time. That was when I felt as though someone was sitting beside me. Nobody was visible, but I continued to feel the presence clearly, just as how I can feel your presence as you sit near me."
"Did you feel scared?" I asked.
"For a long time, it all seemed like a dream for me. Then, I suddenly sprang to my feet and turned on the light. The room was empty. Though the room was locked from inside, I inspected every nook and corner of it. There was no one. I did everything to get rid of that feeling but, I continued to feel his presence in the room. My mind was disturbed. I went outside and lay down in the verandah. I couldn't feel his presence there. For half an hour, I lay awake pondering over what that feeling was. Then, I went back to the room. The minute I set foot inside the room, I knew that he was inside."
"What happened after that?" I asked.
"That night, I slept on the verandah itself. I fell asleep early in the morning. When I woke up, the whole thing seemed like a dream. I even felt like laughing. When I went inside the room, I no longer felt any presence. I was amazed by the mind's ability to play such tricks. But that night, as I sat down in my room after dinner, I felt his presence again. He was very close to me. He was staring at me. On the previous night, I had only sensed his presence in the room. But that night, I could sense his location more clearly. If I sat with my back to him, I could feel his gaze from behind.
"I was determined to investigate this presence thoroughly. I conducted various tests. There was no human body there, that's all. I felt everything else. I walked past the place where I thought he was present. When I was crossing him, it felt as though he had stepped aside to make way for me. 'All of this is a hallucination…all of this is a hallucination…' I started chanting to myself like a mantra. That helped a little. So, I increased the intensity of that chant and closed my eyes as though I was meditating. After that, I realized I didn't feel his presence in the room all night. 'Appada!' I sighed with relief. When I was certain that I had recovered, I realized how silly this imagination was and laughed.
"Nothing else happened that night or the next day. But on the third day, I was sitting inside my room and reading a book. I had decided that I would sit there no matter what. That is how one can get rid of such unwanted feelings. I wanted to place a pen as a marker on the page that I was reading. When I raised my hand to pick up the pen, I saw that it was far away. I left it as it is and re-read the same line. Then, as I closed the book and got up, intending to pick up the pen, I froze and sat back on the chair. The pen was near my hand!"
"Wait. Let me understand what you are saying…" I said.
"Yes, it could have been my hallucination. I myself could have placed the pen near my hand unknowingly. But I did that test once again. I extended my hand intending to pick up a notebook. Then, I deliberately averted my eyes. When I looked again, the notebook was near me!
"I ran outside the room, sweating profusely. I roamed around wherever my feet took me. I couldn't understand anything for a very long time. Slowly, as my mind regained its stability, all of this felt like my imagination. I came back only in the evening. I was afraid to even enter the room. I went and lay down on the verandah. Our street is wide and there is plenty of breeze as well. I fell asleep quickly as I was exhausted. Our neighbor's dog was asleep on the floor near me. I woke up in the middle of the night when I felt the presence of someone standing next to me. I got up and realized that it was him. I felt him standing near me. Then, I felt him sitting next to me. Then, I felt as though someone had placed a heavy object on my chest. I lay there, motionless.
"At that time, the dog that was asleep on the floor woke up suddenly as though from a dream. Its body was shivering and was twisted. It lowered its head and eyes, closed its ears, placed its tail between its legs, and whimpered. It looked at the empty space next to me and let out a howl. Then it ran away howling. Hearing this, all the other dogs in the adjacent streets also started howling. Hearing all the howling, my father also woke up and asked, 'What happened, boy?' I lay motionless, but for some reason, tears continuously spilled from my eyes.
"The next day, I informed my father and went to stay at my friend's room. I didn't tell him anything. He might have assumed that I had had a fight with my father. I spent three days there happily. We chatted about movies. On the fourth day, I was asleep in the morning. Somebody called me by my name but, I didn't hear the voice. When I opened the door, I felt a congestion in my chest. It was him. He was standing there, invisible. I tried to close the door, but my hands had lost their ability to function. By the time I could gather my breath and close the door, he had already come inside. He jumped around me again and again the way dogs jump around their owners after a period of separation. I sat down on the chair with my feet shivering. That was the first time I felt his fingers on my hands. They were cold and slimy, like refrigerated fish. They touched my hands and legs repeatedly. It felt as though a Pomeranian dog was touching me with its nose. I could feel his breath on me very clearly.
"My friend woke up and asked, 'What happened?' I didn't say anything. 'All of this is a hallucination…all of this is a hallucination…There is something wrong with me…I will go meet a good psychiatrist…' I told myself.
Then, my friend yawned and asked casually, 'Who was at the door?'
'There was nobody. Why do you ask?' I said anxiously.
He was surprised. He thought that I was hiding something from him. 'No no. I saw' he said.
'What did you see?' I asked.
'When you opened the door, I could see someone standing outside. But, I couldn't see who it was. I only saw a movement. I didn't notice it properly. Then I fell asleep', he said. I didn't ask him anything further.
"After that, he did not let me go at all. I couldn't escape from him. He would come with me silently, comb my hair gently, and touch my hand. I had many such experiences. Once, I was crossing the road in a daze and was about to be hit by a lorry. He pulled me by the hand and took me to the side of the road. Then, he started to kiss me with overwhelming joy. It felt as though he was crying. I couldn't get rid of him. I hated him, loathed him. I thought that the only way to get rid of him would be for me to die and I even walked to the edge of a bridge. I cannot bear him. I went to many doctors. They all tell me that I have Schizophrenia and give me medicines. When I eat those medicines, both he and I sit together motionless for days, that's all."
"Saravanakumar, I have two questions for you. Firstly, why do you call it him?" I asked.
He hesitated for a moment and sighed, "I knew it the minute he had come close to me. But, I realized it clearly only after a few days. It is none other than my older brother."
"Is he dead?"
"Yes, he died at a young age. I was eight years old at that time. He was twelve. He was an intellectually disabled person, a retard."
"Did you like him?"
I was shocked to see his face twist in disgust. "No, I hated him. When I say 'hate', it is no ordinary hatred. I would obsess over these thoughts of hatred day and night. My body would burn in hatred."
"Was he a healthy child?"
"Yes. He would walk and run very well. He was strong. Whenever he would have a fit of hysteria, it would take at least two people to hold him down. He was extremely ugly. A side of his head was contorted and one of his eyeballs popped out a little from the socket. Saliva would constantly ooze out of his fat lips and there would be rheum in his eyes. He had big yellow teeth. Apart from this, there would always be a stench coming from him. A very disgusting stench! Like a decaying infection. Like the insides of a dead animal. A very revolting and nauseating smell."
"Could he talk?"
"A few words like Amma, Appa, Fish, Rice, etc. He would also let out a very strange moan every now and then. He had a laugh that was even more disgusting. I can hear that laugh even now. It is the most disgusting sound in the entire world!"
"Saravanakumar, why did you hate him?" I asked.
"I don't know. Some boys used to ridicule me because of him. That might have been the reason. He meant the world to my mother. She died the very next month after his death. Her thoughts revolved around him day and night. That could have also been the reason. But no matter how much I hated him, I couldn't get rid of him. My mother used to force me to take him to play with me. He also wouldn't leave my side. To get away from him, I would run away or climb a tree, but he wouldn't leave me at all."
"Did he like you?" I asked.
He cooled down. With a deep sigh, he replied, "Yes. I think he liked me very much. Perhaps that is why he doesn't leave me and continues to be with me. He used to call me '…mbi'. At that time, his face would be filled with joy. He would bring whatever he got to me. But, I wouldn't eat anything touched by him. Even then, he would directly bring it to me. I would beat him up nicely, throw mud at him, and push him down. But, no matter what I did, he had that laugh; '…mbi' that voice." He scratched his head and continued, "He was such a big nuisance. Sometimes when his fit reached its peak, people would hold him down and call me 'Kumar, come quickly'. I would not go. Then they would drag me to him forcefully. When I say, 'Ey Sendhil! Stop it!' he would become normal, laugh and call '…mbi'."
"Do you feel guilty for having hated him that way?" I asked.
"I understand what you are trying to say. The guilt could have caused this Schizophrenia in me. But it is not like that. I can feel his presence clearly," he said.
"Saravanakumar, why can't this be Schizophrenia?"
"If that is the case, I should be the only one to feel his presence. But many people around me are also able to feel his presence. One day, I went to a hotel and sat down in the family dining area. The waiter brought two plates and placed it on my table. I couldn't understand. I ordered for a dosa. 'Dosa for the both of you, sir?' he asked. 'No, it's just for me,' I replied. 'Then for the man who went to wash his hands?' he asked. 'There is no one else,' I replied. 'It felt as though two people had come in,' he remarked. He checked the washbasin and left, puzzled. Apart from this…"
"Apart from this?"
"…A few others have also heard his voice near me. It has been one year since I started hearing his voice. I agree that it is common for people with psychological complications to hear voices. He calls me '…mbi…mbi' non-stop. He laughs. But, my father and friends have heard this voice near me and have been terrified."
"You yourself could have spoken that way, right?" I asked.
"But my lips never moved. I myself have heard that voice and have been terrified," he replied.
* * *
"Hmm…this is definitely a complicated matter," said Dr. Sivasanmugam, turning off the tape. "But this is definitely Schizophrenia. The patient is very intelligent and highly imaginative. As a result, the problem is also very complicated."
"You please start with your explanations, doctor. I will check whether my approach is right." I said.
"A child born with an intellectual disability causes deep psychological distress to its family," said Dr. Sivasanmugam. "Our families are made up of a whole range of very intense emotions. The mother of this child treats him as an infant for an extended period of time. As a result, a lot of her mental strength gets spent on this. With the passage of time, she becomes unaware of anything else around her. The entire family is bound to this child filled with love and hatred. When such children undergo hormonal changes, they are subjected to nervous breakdowns. As a result, they rarely cross the age of thirty. Their death causes different kinds of shock to their family members like emptiness, guilt, etc.
"In this case, the mother has lived as though there is no other world for her without Sendhil. As a result, Saravanan is filled with anger and hatred. When Sendhil died, his mother also died with him and this has traumatized Saravanan. The guilt has tortured him. All these repressed emotions have burst open on the night when he saw the shadow outside his house. Saravanan's subconscious mind split into two: one remained as Saravanan and the other became Sendhil. It is Saravanan who is doing everything that he claims as Sendhil's actions. But he is unaware of this. He is afraid of all that he sees."
"Okay. First thing, the dog…" I said.
"Dogs observe the body language of humans very keenly. The dog got confused with Saravanan's body language. It could have mistaken him for someone else. It could have been terrified when it realized that there was no one at the spot where Saravanan was staring. Even his friends, the hotel waiter, and others have been confused by his body language in the same manner. That is how realistic his body language is. The reason for this is that it is not acting but the natural expression of his mind."
"Okay, that voice?"
"This is where the matter gets complicated. A patient with Schizophrenia will always be intelligent. Also, he will unknowingly try to make himself and the others around him believe in the presence of the other personality with rigor and interest. At that time, his subconscious mind will provide him with all the necessary abilities to enable this. The sounds are definitely made by Saravanan's vocal chords, but there is no way that his lips wouldn't have moved. You must have heard of the art of 'Ventriloquism' through which, it is possible to talk without moving one's lips. Saravanan could have watched a performance of this sometime during his childhood. Even if he hadn't learnt the art formally, his subconscious mind could have absorbed it. It is helping him now. Do you know that one of my patients, a daily-wage laborer, was diagnosed with Schizophrenia? Whenever the other personality in him would manifest, he could speak excellent English. As a child, he has heard an American Priest speak English for a few days…The capabilities of the mind are like an ocean…"
"Yes," I said with a deep sigh and added, "My estimations are similar to this."
"He must be given regular speech therapy," said the doctor.
"No, it is not possible to make him believe that it is Schizophrenia because, he has all the justifications against it. He must have read at least two books on this topic. It is better to leave it as a ghost and treat him," I said.
* * *
When I reached Saravanakumar's room, the nurse was standing outside with a terrified expression.
"Why are you standing here? Didn't I ask you to be inside with him at all times?" I asked angrily. Saravanakumar had been admitted that morning as his condition had aggravated.
"No doctor…" she said, shivering.
That is when I heard the voice, "…mbi…mbi…paa…odi paa… (Brother, come running to me)." For a moment, a chill ran down my spine. That was a completely different sound; a sound that can be made only by an intellectually disabled person. They were very unsavoury sounds.
"There is nobody inside doctor," said the nurse, terrified.
As soon as I went inside, the sounds stopped. Saravanakumar was in a deep sleep. I went near him to take a closer look. With a deep sigh, I started seeing the reports.
As I was turning around, I heard the laughter. Only intellectually disabled people can produce such a sound. Quickly, I turned to look at Saravanakumar. He was fast asleep. I continued to stare at him.
That is when I heard that infant's voice, "…mmm…ba…thambi… peenum… (I want my brother)." It was definitely coming from Saravanakumar, but his mouth never moved. The lips that were pressed together never parted. His breath came out evenly, without missing a single beat, but his throat moved. I have seen such movement in the throats of Ventriloquists when they perform.
"You stay right here," I told the nurse. She was about to cry. "I'll ask Rajan to come assist you," I said.
* * *
Saravanakumar reached out and grabbed my hands, "Doctor please, I can't tolerate this. Please save me from this somehow. He is with me all the time. He touches me, kisses me, breathes on me. Please doctor, I am unable to tolerate him." His voice shook and he started to cry.
I waited for him to finish crying. Then I said, "Saravanan, you have to listen to me carefully. Sendhil's problem is that…"
"So, this is not Schizophrenia then?" he interrupted.
"No. The person with you is definitely Sendhil. I have spoken with the other doctors."
Saravanan let out a deep sigh. I continued in English, "You have to understand what his problem is, Saravanan. He loved you more than his life. When people like him love someone, it will be completely genuine. There will not be any selfishness or fear in such love. He was with you constantly, but you never showed him any love."
"I hate him, doctor. I hate him. I feel disgusted whenever I think about him. I am unable to tolerate him touching me," he said.
"Do you see Saravanan? This is Sendhil's problem: unrequited love. This is why he is with you constantly, even takes beatings from you. He thinks that if he does all this, you will love him. Now he is with you all the time. You must understand his helplessness," I said.
"What should I do?"
"Nothing much. You have to love him."
"I can't, doctor," said Saravanan angrily. He got up in a rush of emotion, but sat down again. "No. I can't do that, doctor. I definitely can't. I hate him. I loathe him! That disgusting creature…his revolting smell…" He made a gagging motion as though he was about to vomit and his eyes welled up, "No doctor, I can't…um-hum."
"Think about it Saravanan. What was his fault in all of this?" I asked.
"Don't. I cannot love him doctor, even if I die."
"Looks like you might have to die, Saravanan."
"Doctor!"
"Yes, that is the truth. If he loses his patience, he can do anything to you. You are under his control now. You have no protection."
Saravanakumar was afraid. "Now what should I do, doctor?"
"Love him, talk to him lovingly, and call him 'Anna'. Whenever he touches you, don't feel disgusted or angry. If possible, touch him back. Let him feel your love for him."
"Will he go away if I do all this?"
"Yes. When his desires are fulfilled, he has to leave, right? Isn't that how nature works?"
"No doctor. I am unable to do it. I don't know whether I can do it. I hate him that much! I haven't considered him a human for even a second."
"Try. There is no other option, right? Besides, this is also atonement for your sins."
He stood up shocked and asked, "Atonement? For what?"
"For pushing him into the well."
His body trembled as though he was experiencing a stroke and he fell on the chair.
"I dug through your past and found out everything. Your mother knows about this. You also know that she knows."
Suddenly, Saravanan started wailing loudly. He cried for a long time. Slowly, he calmed down and said, "I…don't know why I did it, doctor. He was looking inside the well and for a minute, I lost my control. I lifted up his leg, pushed him inside and ran away." With a deep sense of calm, he continued, "When his corpse was brought home, I leaned against the wall and shivered. I was unable to cry. Many people consoled me. One of my uncles gave me whisky and put me to sleep. After that, my mother never got out of bed. She didn't speak either. After many days of hesitation, I went near her. The minute she saw me, I understood that she knew everything."
"Saravanan, try to love Sendhil. Your mother will also like that."
"Yes doctor. That is what I have to do."
* * *
I was with Saravanan throughout the following week. I watched him suffer violently. He was unable to love Sendhil. I was astonished when he told me that trying to love Sendhil was like trying to habituate himself to eat feces. But it is possible to train the human mind to do anything. Slowly, Saravanan started to approach Sendhil.
Whenever they would be alone, I asked Saravanan to croon, "Anna, you are my dearest, you are my dearest." Even if he was doing it only artificially in the beginning, his mind slowly started to accept it. But, it was difficult to bring about any real progress. Saravanan would do it for two days and then scream, "I can't do it," on the third day. I would ask him to do it again.
Whenever Sendhil's personality would manifest from within him, I would sit next to him and say, "Sendhil, Saravanan likes you. He calls you his dear one. You are a good child. Saravanan likes you. He will give you kisses." When I would hear the infant voice and laughter in response, for a moment, I couldn't help but believe that I was talking to Sendhil and not Saravanan.
Gradually, changes were visible. Saravanan's face became clearer. "Sendhil is still with me, but since I don't hate him as much as before, it doesn't feel like an unbearable hell. His stench is the only thing that is still slightly disgusting, but even that is not as bad as it used to be," he said.
"Try to habituate yourself to it Saravanan. Sendhil will eventually get bored of you. Once he is assured of your love for him, he will start showing interest in other things", I said. I asked him call him "Anna, Anna" repeatedly and trained him for that. I secretly watched Saravanan repeat this every night when he was alone.
* * *
The improvement that was visible in eight weeks was unbelievable, even for me. Dr. Sivasanmugam said that it was an achievement. Saravanan's face and body became brighter. His never-ending hesitation and sadness left him. He said that he could feel that Sendhil was not with him anymore. He even said that he had taken a walk one night in the darkness to confirm whether Sendhil had really left him and that he did not feel the presence anymore.
I even started thinking about whether he could be discharged. He must be under continuous observation for six months and eat tablets. As I was talking about this with him, I asked him whether he was able to love Sendhil now.
After a long silence, Saravanan said, "I am not sure doctor. Right now, I don't feel any anger, hatred or sadness towards him. But when I think about him, I can only feel relieved that he is gone. That's all. I don't think that I feel any love for him. I can't," he said. Then, "An intellectually disabled person can be born as one's son or even as one's father, but he must never be one's sibling," he said.
"Why?" I asked.
"How do I tell that? He is ugly. He and I can never be compared. But deep down, I know that he and I are the same."
"I don't understand, Saravanan."
"Let us assume that I am a picture. If that picture is crumpled and then spread out, it becomes him. My face and body are hidden within his ugly appearance. Whenever he walked and talked, I felt as though he was ridiculing me, disrespecting me. No wait. I don't think that it is him that is disrespecting me. It is someone or something else. Maybe it is God or nature."
"Yes," I said slowly "Along with that his pure love was also disrespectful to you."
He was shocked. Slowly, he became normal and said, "Yes, that is true. His nature made me look like a trickster and a cruel person to myself." He sighed deeply. "Doctor, I was thinking about this the whole day yesterday. Why must such creatures be born and weigh down upon us? What is the meaning of all this?"
"What is the meaning of human life itself, Saravanan?" I asked.
He laughed and said, "That's true."
* * *
That night, the nurse called me on the telephone, half-alarmed, "Doctor…Saravanan…Saravanan. Please come quickly… Saravanan… come quickly doctor, come!"
When I reached Saravanan's room, I could hear Sendhil's violent screams. I had never heard his voice so angry. "Ne…ketta thambi…ketta thambi… (You…are a bad brother)," he bellowed.
Inside the room, Saravanan was squirming with his teeth clenched together. His hands and legs were twisted as though he was experiencing a stroke. I shook him, trying to wake him up, "Saravanan… Saravanan…look at me."
He snapped awake. He stared at me with red eyes. Suddenly, he jumped up and gripped my hand tightly, "Doctor…save me doctor…Sendhil…doctor…" he mumbled.
"What happened?" I asked.
"Sendhil is trying to…me…Sendhil…"
"Anna, Anna, Call him Anna. Talk to him with love."
I will never forget the flash of anger that spread across his face in that instant, "With love? WITH LOVE? TO HIM?" he said and got up with anger, "I hate him doctor. Love? Him? I can't act any longer. I can't act any longer. I hate him doctor, I hate him! I feel disgusted even when I think about him. Don't doctor, I hate him."
Suddenly, he fell back on the bed and his body shook as though he was experiencing a seizure.
"Cylinder…oxygen…come quickly, nurse!!" I yelled.
A small amount of blood oozed out of the corner of his mouth. His eyes looked crazy and unfocused. I placed the stethoscope on his chest. He was dead.
Unable to believe it, I checked his pulse and heartbeat. Yes. His heart had stopped. In some rare cases, if the psychological illness reaches its peak, the patients can die of a heart attack. 
With a deep sigh, I closed his eyes and got up. "Sister, please inform his father. Also, ask Arumugam to come," I said to the nurse. She nodded with fear and left. I washed my hands and face in the washbasin inside the room. As I was wiping my face, for a moment, I heard a sound that ran through my body and made me tremble with fear: It was Sendhil's infant laughter.
B. Jeyamohan (also credited as Jayamohan) is one of the most influential contemporary, Tamil and Malayalam writer and literary critic from Nagercoil in Kanyakumari District in the south Indian state of Tamil Nadu.
He entered the world of Tamil literature in the 1990s, Jeyamohan has had impacted the Tamil literary landscape as it emerged from the post-modern phase. His best-known and critically acclaimed work is Vishnupuram, a deeply layered fantasy set as a quest through various schools of Indian philosophy and mythology. His other well-known novels include Rubber, Pin Thodarum Nizhalin Kural, Kanyakumari, Kaadu, Pani Manithan, Eazhaam Ulagam, and Kotravai. His writing is heavily influenced by the works of humanitarian thinkers Leo Tolstoy and Mohandas Karamchand Gandhi. Drawing on the strength of his life experiences and extensive travel around India, Jeyamohan is able to re-examine and interpret the essence of India's rich literary and classical traditions.
Kavya is based out of Bangalore. She enjoys writing, painting, and singing in her free time.