I.
'There's not much left in this one', he said, trying to hold another bottle up to see its contents.
He'd been drinking since sometime before and was sure he was starting to run out of whatever it was he had bought. He couldn't remember. The music was loud – he could feel it in his chest, punched by the heavy thud, thud, thud. The empty brown bottles littered the floor, cast aside along with the finished crisp packets and discarded takeaway boxes, the room smelling of chilli fried chicken.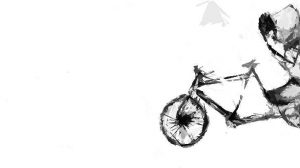 Tonight was going to be a great night. Nikhil had bought one of those glitter balls a while ago and was finally having the chance to try it out. He remembered buying it. Walking past the rickshaw pullers lying in the scorching sun, and a dog nosing through a pile of food scraps in the gutter, he stopped outside Flash Party Supplies. As he entered the shop, the air conditioning had made his sweat turn cold, a welcome refreshment from the antagonistic humidity. He swaggered over the white marble floor straight to the shop attendant.
'Show me what all you have for disco parties' he blurted to the assistant, barely making eye contact. The assistant revealed to him a glitter ball from under the counter. Tiny coloured mirrors orbited the ball – reds, greens, blues and yellows.
'How much?' he snapped. He hadn't liked the shop attendants' reply and there was a disagreement as he handed over a bunch of notes. Still, it was worth it. He put it under his arm and left the shop, back into the humidity and back home to display his purchase.
Nikhil's thoughts floated back to the party. Intoxicated people were illuminated as the spots of light passed over, revealing fluorescent colours and bright eyeliner. Nikhil looked down and saw someone had put a glass in his hand. He took a sip, the light brown contents tasting both sweet and bitter. Someone brushed past him. He tried to focus on the heavily scented girl shouting some incoherence in his ear. He remembered nodding and sharing a smile.
There was cheering as the room was suddenly flooded with light. People were falling about trying to put on shoes all the while laughing. Nikhil found his shoes, polished to a mirror black, and wrestled them on. He felt a friendly arm around his back as he was jostled out, along with the rest. There were doors opening and the sound of footsteps running down stairs. The warmth of the city night was calling. It was time to leave.
'Let's go!' he cried out as people fell into the car. The doors slammed shut just as the engine roared and the car pushed forward. Inside the car someone had lit a cigarette and was offering a drag around. Nikhil rolled down his window to let the cooling breeze in as the city raced by. Headlights lit up the road ahead as the car sped along, people laughing and singing.
And then there was screaming.
II.
His father had been a rickshaw driver and his father before that, and probably every other father in his family, stretching back forever. An oily ganjee hung limply over his ribcage. Sinuous biceps tensed as he tugged the rickshaw along – his arms both tired and strong, and black from the constant sunshine. The rickshaw had belonged to his father, with its rickety wooden wheels and high chair covered in a vinyl that was now split, spewing out its foam. Two long iron handles jutting out for him to pull the rickshaw were once painted shiny black, but now polished clean from years of use.
He remembered, as a young boy, helping his father adding a canopy to his cart, it seemed a long time ago. They'd gone to the local market to find a small piece of waterproof material and he had admired how his father had haggled for it. Jabbering words had been exchanged back and forth until a deal was struck and the waterproof material carefully folded. Back home – a dirty yellow tarpaulin pulled tight over wooden crates to shield the family from the summer monsoons – the canopy had been constructed, a sail of blue plastic held in shape with wooden supports to cocoon its passenger. His father had taken delight in explaining to his passengers how to operate it, and would pull it open every time it had rained. Over the years the canopy had slowly worn until it barely kept any rain off the passenger at all.
On a good day he could earn a good wage taking people from the market corner beside the butchers with bloody red carcasses hanging from meat hooks, up past the rusting telecom box with entangled vines, passing dusty buildings with grimy window bars. Dodging the Ambassadors honking their way this way and that, and sweaty people edging out onto the road, waiting for a space on an already crowded bus.
That night he was returning from a long shift. His feet were sore as he headed back to the shop awning where he had his home. On his way, he pulled up outside the dosa seller. He sat his rickshaw down outside beside the other vacant rickshaws and with stiffening legs, limped into the busy restaurant. He surveyed the crowded tables for a place to sit, raising a smile or nodding at the patrons he recognised.
A dosa was immediately brought out and slid in his direction for he had frequented this restaurant for as long as he could remember. He had kept this treat to himself, not out of greed, but because the rest of the rupees he earned that night had to be handed straight to his family. He looked down at his meal. The crispy yellow pancake mixture was rolled over to create a large tube, and was served fresh with two small bowls – one a hot and sour reddish watery sambar, the other, a milky chutney containing coconut pieces and mustard seeds. His long fingers tore a piece of dosa from the roll with a satisfying crunch, and dunked it into the chutney until a generous dollop coated the mixture. He could feel the warmness of the dosa in his stomach as it brought him comfort.
Washing his meal down with cardamom tea served in a small earthenware pot, he could feel energy returning to his aching muscles. Sitting under the grimy black fan struggling to pacify the heat, he began chatting casually to his friends. The laughter was light as they traded stories, the tailor with his henna-dyed orange hair to disguise his age, the mango seller who had managed to sell his mangos at exactly double, no, treble the price, the shoe polisher whose hands were permanently black. A kaleidoscope of stories from their past.
Now it was getting late. He hadn't noticed how empty the restaurant had got. Handing a few rupees to the dosa seller, with a warm smile he muttered a farewell. Outside, he bent down to pick up his rickshaw and slowly advanced out onto the road to start the journey home. A roar of an engine made him look up. He froze. His eyes were pierced from the glare of two white lights. It was too late.
III.
I was due to start my shift at 9.00pm, but due to that new, and useless dosa seller getting my order wrong I didn't start until much later, more like quarter to 10. You would think that after eleven years going to the same place, they would remember my order. You would also think that people would see my uniform and give me some respect. I have these metal Kolkata Police badges on my shoulder for a reason.
In this line of work, you have to make people respect you. It wasn't supposed to be like this. My father told me, 'be a policeman, carry a baton, be the top guy'. I remember my first arrest. I was straight out of training college – thought I knew everything. Really wanted to make a difference – ha! Just imagine! My colleagues had asked me to do it. They told me it would get easier over time. So I told my first arrest – you give me the money, or you go to jail. I had a family to house, debts to pay. What would you do – let them go homeless?
Still, at least they gave my dosa for free. That's one of the perks you see, getting fed for free.
So now I'm sitting on this dusty plastic chair, on this dusty street corner, baton in one hand, grubby handkerchief in the other to wipe away the sweat. Whoever chose this uniform for us to wear must have been a genius. It's the middle of summer, and I have to wear these black gumboots with this badly fitted white helmet. We sit on this corner all day or all night being covered by exhaust fumes and dust until our uniforms turn from white to a dirty beige. Still, what do I care – I don't have to wash it.
You were wondering how my night has gone? Nothing unusual to report. This is my favourite corner actually. See over there, the cigarette seller dispensing single Gold Flake cigarettes? That smart guy pays me 300 a month to keep open after hours. Bonus! The best part is, in front of the cigarette seller is a 'No Parking' area, but people still do. Especially after hours when they have been out for the night and that's the only place you can buy cigarettes from. That's where I come in. I'm the person issuing the tickets, and if they argue back, I impound their car. Unless they want to help sponsor my shift. I get a real enjoyment out of seeing people desperately trying to win back their precious vehicle. Three people have parked there tonight, and three people are helping to pay for the new sari my wife has been batting my brains out about. One of them is one of those new Tata's, with the air conditioning and leather trim you might have heard about. World's cheapest car they reckon. I could ask a million people to sponsor my shift and still be nowhere near affording one.
Oh, we did have this one incident tonight. Turns out a car full of rich kids had been partying and were on their way to a disco, you know the type. The car seemed to come out of nowhere and struck in full speed into an old rickshaw. The driver didn't even have time to stop – there was broken wood and blood everywhere. The car was mangled as well. It had come to a halt and was hissing out steam from somewhere in the engine – I wasn't going anywhere near the thing. If you want to make any money in situations like this, you have to act quickly. These rich kids would pay thousands to get themselves out of this one, and I made sure no one had the chance to leave the scene. I grinned at my colleague and we both knew what each other were thinking. A hit and run. Nobody had to know.
Apart from that though, it's been a quiet shift.
"Born in the UK and currently living in New Zealand with my Bengali wife, I've also spent numerous years living and working in Kolkata where I learnt about the language, culture, and vast amount of eateries. Prior to living in Kolkata, I had studied Psychology in New Zealand and take a keen interest in human behaviour and motivation. I have no prior publications, but wish to submit Kolkata Kaleidoscope to test the waters." – Jamie Shirlaw