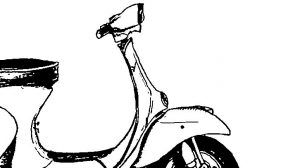 'Let's go to the movie –Phir Kab Miloge,' said Viswam.
'Nah… I'd prefer Alluri Seetarama Raju. I don't even understand Hindi properly,' said Sarada.
'Cha! That's a very old story. It has been a long time since we saw Dilip Kumar. Compared to Dilip's acting Krishna's is just so so. Let's go,' said Viswam mildly.
Sarada fumed. Until yesterday the two sisters-in-law, the younger brother-in-law and mother-in-law – all of them had been staying with them for the past week. They made rounds of all the cinema halls in the city, while she had to remain home alone, doing all menial domestic chores. Her husband might have shown them Alluri Seetarama Raju too. That is why he is now refusing to come with me. To add to all of this, she had shared her desire in secret with him.
'Show them any number of movies – but not Seetarama Raju. Let's see it together after they have left.' Sarda had confided. Viswam agreed. But now, his talking about the Hindi movie instead was not just offending but also a matter of deep insult. She felt all the more betrayed when she recollected all her dedication towards her husband while he was unable to fulfil even so small a wish.
'Speak the truth, you have already seen Seetarama Raju, haven't you?' with angry eyes she thundered.
'Cha! No way! Why should I, when you had already said no? Yes it is true, I did see four or five Telugu movies with them. But if I don't see a Hindi one even today, I'd go crazy, Sarada!' he pleaded. Sarada was in no mood to listen. After all, she too had become crazy because of physical and mental exhaustion caused by the in-laws' visit.
'What do you say, sir? Won't you come along for the Telugu movie?' Sarada said ready with handbag, long ear-rings – her new style after coming to Hyderabad – hair rounded as a bun above the head, a big vermilion dot on the forehead, a locket on the chain that hangs heavily down when she bends forward, a bit tightly-wrapped sari and a short-sleeved blouse. Viswam was all eyes on Sarada.
Sarada was looking gorgeous, with her white skin visible through the dark blue sari and her light blue-coloured blouse. Her thin lips were apparently covered with a light coloured lipstick. Viswam felt even more bewitched when those dazzling lips quivered with rage.
Precisely this is why he kept ogling at her.
'Shall we leave? Or, shall I change back?' Sarada said.
'If it is for Hindi cinema…' said Viswam demurely and was about to add something. However, before he could do so, Sarada turned around and rushed inside in a huff.
Sarada was in a rage. But, after all, how long would she… there still was a lot of time for the movie… thinking so, Viswam switched on the radio and started to listen to songs, keeping the volume low.
After a while, Sarada's grumbling voice could be heard. 'Wretched life…wretched living… What for am I living… and for whom?… living for whose sake?… do I have anyone at all?…Everybody wants to take all kinds of menial services out of me, but nobody cares for my little likes and comforts. I am just a machine to satisfy their wants. Like a fan, like a radio, like an iron box…' Sarada kept grumbling, so that Viswam could hear. Viswam twisted his eyebrows.
'After all, who doesn't know about him? What have I got by trusting him? Does he know anything other than cheating and duping! That family, that clan itself is like that…and who doesn't know that family… having come from such a clan, how can he be otherwise?' On hearing Sarada's words, Viswam increased the volume of the radio.
Sarada could no longer tolerate the sound.
Running back into the hall, she yelled at Viswam. 'Do you want me to stay? Or should I go away somewhere? If the radio blares out like that, as in a hotel, will the ears survive?'
'Well, I have no patience to listen to repeated jibes about families. So what do I do?' said Viswam, somewhat angrily.
'Why get offended, did I say anything false? Did I speak any untruths? We in our family don't have it. Especially speaking lies…'
'Sarada! If you want to speak, speak about you and me. Bringing in clans and families is no good for either of us'…
'Unable to digest the facts? When it comes to clan and family, you prefer to make a clever escape…'
'Ha! Clever!! What do you know, Sarada? If you really know, you wouldn't talk like that.'
'Be a little courteous…'
'If you are courteous, I have no objection to be so.'
'Maybe. But who has to show courtesy first and who next – I know very well.'
'I know. Your father is a moneyed man, so you are head-strong' said Viswam and got up from the chair and started pacing up and down.
'I told you many times not to bring in my parents. Still you keep doing it, don't you?' Sarada flung something to the ground.
The object crashed with a big sound. 'Control your anger a bit. It helps,' said Viswam, looking straight at Sarada. Hearing the manner in which Viswam uttered those words, Sarada went berserk and threw down the flower vase that stood on the table. The vase broke and the room was filled with glass pieces all over. Many of the things in that house were given by her father. So she felt she was entitled to do anything with them.
'Anger comes to me too not just to you alone' said Viswam.
'Why don't you show it then? Why do you stand dumb? Let out your anger… and let me see… today will be final, this way or that…'
As Sarada was speaking a loud noise was heard. It was Viswam's turn this this time to throw something on the ground. Both began throwing things, throwing whatever came their way. Things were being smashed to pieces, making crashing loud sounds. Among those were things that they had shopped together with great relish.
Some of them bore the mark of Viswam's earnings and Sarada's selections. The whole house was a mess. Both had become embodiments of fierce anger that changed the face of that house.
Both were educated. Both cultured. But, when anger and outrage struck, neither knew how to be in control.
Radio blared on.
It was perhaps the News. 'The people on a strike threw stones at shops. Broke street lights. Burnt buses. Set trains ablaze. Police had to resort to 'lathi' charge, and later opened fire. A few people died.' And so the news went on from the radio. The people on strike were students, employees… and a few others. Some of them even shot themselves and committed suicide…said the radio news.
Sarada could not listen to it anymore… she rushed towards as fast as she could and kicked it far away. The radio's protective cover and glass broke but, since the connection was still intact, the news kept running. 'So many crores and so many lakhs loss to the nation…. So many deaths…' the news went on.
Viswam came and stood near Sarada and was about to speak. Sarada piercingly stared at Viswam and ran quickly into the kitchen.
On impulse, Viswam too ran behind her.
Sarada poured kerosene all over herself.
Viswam was stunned. As Sarada took match box into her hand, Viswam ran forward, snatched the match box from her, threw it off and hugged her tightly, saying 'My Sarada….my love…my life…' and started kissing her all over with frenzied affection.
'Leave me… please…leave me…our marriage does not last anyhow…we cannot live together…our differences won't go. We cannot adjust with each other. Neither of us has common sense. Rather than living and getting ridiculed, it is better to die. Leave me…please…leave me' Sarada went on wriggling herself out of her husband's embrace.
'If we can't adjust, dying is not the only way out, Sarada!'
'Rather than love and marriage, and then facing the insult of separation, death is preferable. Please leave me…the wretched life will then come to an end.'
'No, Sarada! I didn't bring you for the sake of leaving you. I didn't marry for the sake of a separation. No matter what the difficulty be, let us be together till death, Sarada! If you don't want to adjust with me, I shall adjust with you. Let not stretch things to the point of taking our lives. Life is precious. It should not be taken lightly. Nothing is wrong with our life. Only, we did not know how to live it, so we are suffering. Go and wash your face. Let us go the movie. Of course to Alluri Seetarama Raju. He patted her like a child and kissed on her cheeks.
Sarada bent her head down and did not reply.
'Forgive me for the pain caused to you, Sarada!' he said.
'It's not that! Do you think there is still time for the movie?' said Sarada, keeping her husband's hands on her eyes and lips while wiping her nose with the end of her sari.
'We may go a little late…doesn't matter. Now get ready…cleaning of the house can be done later, after we return. Beware of the glass pieces by the way. Tread carefully. I shall take out the scooter.' Viswam rubbed his forehead against Sarda's lovingly. He came out to the front compound and proceeded to the scooter parking area… Surprise! There was no scooter! Viswam searched all over the compound, but there was no trace of the scooter. He quickly dashed inside and said 'There is no scooter, Sarada!' when she was washing her face at the wash basin.
'Did you see properly?' said Sarada as she smeared her face with soap.
'Yes…'
'See once more…'
'Oh, I have looked all over already, …'
'So!?' exclaimed she, wiping herself.
'That's what I'm unable to understand.'
Sarada ran in to apply some vermilion on her forehead and went out with her husband to search for the Scooter. But it was nowhere. 'It's not a hairpin or a needle to stay invisible. Someone must have taken it,' said Sarada.
'Who would have taken it?' said Viswam, looking quizzingly into the sky with narrowed eyes.
'Shall we ask the neighbours?' she asked.
"Doesn't look nice…no,' replied Viswam.
'What is wrong in asking – It's missing, have you seen it by any chance? It is our need, where is the question of 'nice' or otherwise? Sarada said.
'As you please' replied Viswam.
Sarada went out enquired from the neighbours at the back, the front and on either side. All asked anxiously, 'What happened?… what happened?' but nobody could tell what had happened.
They both then locked the house, and went to the police station to lodge the complaint. Later they had snacks and coffee in a hotel and returned home by taxi. Surprise! There the scooter stood, in front of the house.
'Wow,' said Sarada, softly, gently and gracefully. Viswam got down from the taxi and was staring at the scooter. 'Saab…fare?' asked the taxi man, 'Oh, sorry baba' murmured Viswam and, looking at the meter, paid the fare.
Sarada and Viswam went near the scooter to take a close look and found an envelope attached to the scooter bag. Inside were a paper and two movie tickets…Completely taken by surprise, Viswam opened the letter.
'Pardon me…for using your scooter without your permission. But it was done because our son's life was in danger. Moreover you both were in a very fierce state then, so we didn't bother to ask you. I filled up petrol in the scooter. Without your knowledge, I received your help. For that I am most grateful to you. But I have a small request. Because of your scooter we could save our boy. Many thanks to you. On this happy occasion, for our satisfaction, here is a small gift for you. These two movie tickets. Seats are already reserved.. You will have no problem even if there is rush. Both of you together go the Sangam theatre itself. Alluri Seetarama Raju is on show there. I once again beg your pardon and take leave. Even if I tell my name you cannot recognise. So no such details are being written.'
The tickets were for the second show. Sarada and Viswam exchanged glances. Surprise at first and then with a hearty laugh saying 'This is so strange and magical!'
For a while, both wonder-struck, discussed about the scooter.
Then Viswam said, 'Let's have a quick meal and go to the movie, Sarada!'
'I'm having a headache, no,' she said.
'At least, it will help keep us pepped up. Moreover, that man – whoever he was – wholeheartedly wished that we go to the movie. Besides, why should we waste the tickets? And you did want to see that picture, didn't you?… come on!' said Viswam.
Sarada took out the dishes. They both dined and, after locking the house, went to the theatre on the scooter.
It was past one o' clock by the time they returned home.
The door didn't unlock easily at first, but opened after Viswam applied some force to it. They entered inside, what was there? The whole house was empty. Cots, dressing table, almirah, utensils – brass, steel, silver – boiler for hot water, not a single item. Rubbing their eyes they both peered at the blank house once again…
Even the photos hung on the walls were missing. Both felt as if they had gone crazy. The broken glass pieces too were removed and thrown away by someone.
They rushed to the front of the house and after switching on the light, the saw tyre marks of a lorry having come and gone. When Viswam was about to conclude on something when Sarada brought in a letter – similar to the earlier one – and gave it to her husband. 'See this letter…', She said.
In the letter: ' Of course you know it all! That prices are burning high these days. But this heat won't quench the flames of hunger; on the contrary, it fans them. But, to work, there are no jobs. And death is abhorred. Anyway, these things seem don't seem to be necessary for you. They may even be useless, so that is why you both were throwing and breaking them into pieces. You people are employed and moneyed, so you can buy them again. By the way, for our satisfaction, we brought you two more movie tickets – for tomorrow's first show. Go if you like… thanks.'
The tickets were of Natraj theatre. The Picture: Phir Kab Miloge.
Read translation of Dr. Veluri Rama Rao on Indian Review.