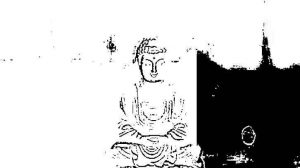 The long drive had exhausted Aparna. On her way back from the city, the many hours behind the wheel had her concentration faltering. Neither the strong Americanos she had picked from the cafes at the petrol pumps, nor the small naps she had taken in between, worked to keep her awake.
Finally she decided to avoid the busy national highway and take a parallel road running through a chain of villages. She pulled the window down and allowed the fresh air in. The road was almost empty, giving her a sense of freedom. A sense of driving without a destination. Slowly her weariness started disappearing and her Zen Buddha cruised steadily.
Aparna was an avid reader of Zen Buddha stories. This influenced several aspects of her life, such as her decision to buy a car, guided by virtue of it being called Zen. She chose a dark, silver-grey, similar to the Buddha carved in stone, which she kept with her at all times. Zen never failed her. It always treated her with a Buddha-like compassion. At least she thought so.
Aparna firmly believed that nothing happened without a reason or purpose. When she stated dating Gautama, it was the name's connection to Buddha that drew her to him. She met him during a book-reading session. Initially, she was a bit intrigued about finding a computer engineer at a literary evening. Later, she happily found that they shared a few mutual friends and enjoyed hanging out together.
Her life had been nearly perfect. A happy job, good friends to celebrate life with and colleagues she didn't want to get rid of. Like Zen, her car, her life moved automatically, swiftly. Coming from a place of such stability, she trusted that anyone named Gautama could not harm her. Then, when he gifted her with a serene bust of the Buddha, made in teakwood, she knew she was ready to take the relationship to the next level.
But did he really ever harm her? No, it can't be said so. Aparna had been willing to trust him for the rest of her life and beyond. He trusted her too. But a satisfying marriage could not be based on that alone.
What is satisfaction? A vague and shady idea, different to each individual and always subject to change with a fluctuating social environment. Aparna couldn't keep watch and gauge it all the time. When Gautama offered his explanations to part ways, she could only nod her head. Suddenly, her power of comprehension took leave. Next day he packed, smiled, hugged and kissed her, patted on her shoulder and left the apartment, leaving her with a broken life bleeding everywhere. Hurt, pain and shame swallowed her and she allowed them to.
These feelings, she kept to herself. The hurt and pain were too personal. Sharing would only add to the shame. Aparna became an emotional wreck and refused to emerge from the deep bottom of her lonely ocean. She could see Gautama drifting away effortlessly. Still, a part of her mind knew that she had to come out of her abyss of grief.
As if on cue, she got an offer from a leading publishing house in the city, involving her heading an editorial team to bring out modern classics from all languages of the world, into regional languages of the subcontinent. It included travel and meeting new people. Just the kind of opportunity she needed to bring her out of the past, shadowed as it was with Gautama.
A meeting was scheduled in the city over the weekend. To clear her head before it, she decided to drive there. To give herself some time to plan things, she arrived two days earlier and began working on her plans and presentation for the meeting. Suddenly, instead of Gautama, she was thinking of Folio editions and books as priced possessions. Her mind was racing with ideas, and she felt alive after a long interval.
She ordered a full dinner and a Cognac on the rocks to chill her; relishing every item of her choice from the menu. Like a hungry lioness, she gracefully enjoyed her meal. The next day was free. She woke up refreshed and went to catch up with old friends. Her meeting on the last day of her stay did not disappoint either. Still burning with energy, she planned to return home. Her first impulse was to share the news with Gautama. But she resisted.
The drive back brought old memories. She had used this route a few times before. Once, with Gautama, when both were passionately in love. Aparna could even now imagine Gautama sitting next to her and that thought stirred her inner self. She felt excited. The radio was playing a quick number by the Slow Peddlers. The road was almost empty.
Then she saw them. A cat and two kittens, in the middle of the road. The mother looked straight into the headlights while the kittens were busy licking something spread on the tarred road.
Aparna slowed the car. Zen Buddha stopped just a few feet away from the cat family. She read something familiar in the mother's eyes but she could not decipher it immediately.
She got out of the car and went to them. It was evident that whoever had left them there didn't care if they died under the crude tires of vehicular traffic. The kittens were busy eating and their mother looked at Aparna.
She could not just leave them there to die. She brought some biscuits from the car and carried the kittens to safety of the pavement, followed by the mother. She saw the cat family feasting on her biscuits. Relieved she went back to the car to continue driving.
Aparna inserted a disc into the player, a collection of bhajans sang by Sreevalsan Menon. She always had a fascination for Krishna bhajans. Sreevalsan was one of her favorite singers. 'Krishna nee begena baro (Krishna, come fast…)', which was now playing, was one of his best, flowing slowly. It was a supplication to Lord Krishna to come to the devotee's help. Sreevalson's voice gave her a unique feeling. It was somewhere between tenor and bass, but with a sweet tenderness. As always, listening to that bhajan moistened her eyes and made her heart compassionate.
The melody reminded her of an amusing, yet embarrassing anecdote from her life. At that time, 'Krishna nee begena baro…' was her ring tone. They were visiting Chennai with a friend's family.
The friend was a Catholic. So they went to St. Thomas Mount, where Christ's disciple Thomas was martyred and buried. When they went inside, ceremonial prayers were in progress. Three priests, in their golden colored vestments, were leading the liturgy.
It was a very small church with limited space. They sat at a pew where some space was vacant. The main celebrant at the center, an older priest, raised his hands and started praying with fervor, "Lord Jesus please come to our midst…" Before he could finish, Aparna's mobile phone cried out louder "Krishna nee begena baro….." In the hushed silence of that underground church, the bhajan echoed loudly. Everyone turned towards Aparna. The senior priest was visibly irritated, but the younger concelebrants looked more or less amused. She fumbled to silence her phone, but her new bag concealed it within its unfamiliarity. Thereafter, Gautama never missed an opportunity to tease her about that funny incident.
Suddenly, like a jigsaw puzzle everything fell into place. She realized why the cat family from the road was felt familiar.
It was the day after her breakup with Gautama. Aparna was still in her bed, even at noon. She opened her bleary eyes when the cat, all seven pounds of squirming flesh, climbed onto her belly. Squinting into the sunlight streaming in from the open window, she discovered that she was now the weary possessor of a pounding headache, and at some point, had managed to lose both a tooth and a spouse.
The first thing Aparna noticed about the cat was her pregnancy. That made her instantly considerate towards the cat. She didn't push her away and slowly they developed a kind of emotional equilibrium. She cleaned the cat with a warm bath and fed her. The cat's presence gave her a feeble reason to move with her daily chores. May be she was waiting for some sort of an excuse to get back to routine.
But it didn't last long. After over a month, she returned home unusually late one day and found that the cat was no longer there. Aparna searched in and around her apartment but without any success. She was a bit concerned because of the cat's pregnancy. She kept her eyes searchingly open for over a week but other pressing issues slowly pushed the cat to oblivion.
Aparna was sure that the cat recognized her now. Probably childbirth made it lose a little weight but its charms were there intact.
She slowed the Zen Buddha and took a U –turn. As soon as they finished the biscuits the cat family was sure to go back to the leftover food and to the danger of being crushed by passing vehicles. Within a few minutes she reached the spot where she left the cats. As suspected, the family of three had returned to the road to eat whatever food they left on the road.
The road, under the canopy of the starlit sky, was silent, deserted. Aparna parked her car by the road side and got out with whatever food items she had stored in it. She grabbed the cats and kept them close to her warm chest. Animals are more gifted than humans, recognizing and appreciating safety and security.
Aparna saw a small house with a grilled gate opening to the road, close to where the Zen was parked. She kept the cats carefully inside through the grills, but the smaller one refused to leave her. As if to indicate its displeasure of leaving her or to express its gratitude, the kitten cried out desperately. Aparna kissed the kitten and parted with it. She felt the pinch of the pain of separation. The mother cat and the kittens looked up and refused to take away their eyes from their benefactor. Aparna then spread a sheet of newspaper and placed the food items on it, while the cats ignored the food and remained looking at Aparana. She waved her hand to them and bid a parting farewell. She walked towards the Zen and then, on a second thought, returned to the road. She thought it prudent to remove the leftover food to avoid the cat family returning to it and becoming prey to moving vehicles of the night.
She carefully started picking up rice and fish bones remaining there. As she was engrossed in it, a group of motorbike riders roared towards her. Suddenly alerted, Aparna raised her head and turned. The first bike hit her straight into her chest where the cats had been resting a few seconds ago. Her lean body, exactly per the laws of motion, was thrown into the air and was licked by most of the bikes when it came down.
Youngsters were celebrating one of them buying a latest model Harley Davidson. The honest intensity of their celebration didn't allow them to view an unexpected human on the road on a late night.
When the piercing light from the Harley Davidson hit Aparna's eyes, she closed it instantly and couldn't see anything thereafter. She lost control over her mobility factors. When the celebrating youths passed her she remained bleeding profusely, wetting the tarred road. Her ribs were broken and thrust out. Flesh was crushed and her body, bruised. She remained at the center of the road. Though weak, her life force glowed in the night and tried to ignite her survival faculties. Then came a black Ambassador car, as if attired with the darkness of night itself. Its driver was in a hurry to reach home. He didn't even notice Aparna, passing over her and roared past turning her body facing the night sky. With whatever life force she could gather, Aparna saw the stars for the last time. Blood pooled around her.
The CD player inside the Zen Buddha was playing its last bhajan. 'I worship the Absolute which is above merits and demerits, creation and destruction, male and female, good and evil, death and life, I bow before you. Oh, transcendent and immanent ultimate reality, free me…'
Mother cat and her kittens stared at the still body of Aparna as if they could see more than the humans. Near the grills of the iron gate they stood on their rear legs and viewed Aparna with intense eyes. Then they looked at each other and cried out uncontrollably.
Night waited for an early day break.
PJJ Antony writes on Indian Review.