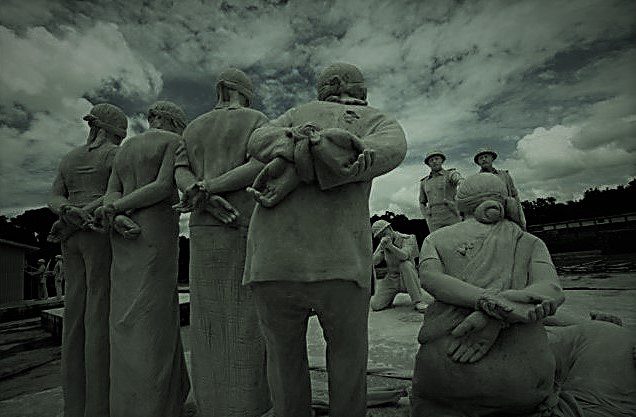 Joseph Campbell, in his book The Power of Myth, talked about the Jesuit missionaries of Eastern Canada in the seventeenth century. He mentioned a young Iroquois hero, who had been captured by a rival tribe. He was taken down to be tortured and killed. The Indians of the North-East had developed a way of torture that had to be endured in silence by the men. This was the first test of manhood. This Iroquois boy was presented to go through this ordeal. But when the Jesuits arrived, they saw the boy dressed as if he had come for his wedding. He was dressed like a groom and singing at the top of his voice. His captors were treating him as an honorable guest. The boy played along with them, in full knowledge of what was to await him. The French clergy, observing the ritual, found it strange and confusing, terming it as a heartless reception. But no! These men were serving as priests for the fearless youth rite of sacrifice. Here, the boy's role was similar to Jesus. The clergy, though they spent a lot of time there, were unable to make this connection.
The cause of our mourning for Jesus is the struggle for liberation from despots and religious bigotry. His tragic death had given hope and courage for hundreds of years to the poor and needy. One might wonder if I intend to include Jesus as one of the intellectuals in this conversation. The question could arise: what do I mean when I say intellectual? Are the teachings of Christ compatible with what we know today as intellectual or civil society? If there are values that overlap, surely, we'd term them as Christian and not "Intellectual". Surely, people would live happier if they were to actualize the realizations Christ had made regarding the conflict surrounding societies.
Man had become subject to scripture. These were the truths he was able to grasp. His beliefs had reached a stage where his essence was integrated into that of greater society. As a result, he had to be killed off. We know from his life that he never claimed to be a prophet like Moses. Moreover, he had wanted to stand up against immorality as a good Jew. One could think of him as a reformer, rather. He rallied against the established notions of Judaism. For such reasons, he had to be crucified. Condemned for crimes a petty thief would be pardoned for, the civilized Romans' cruelty was obvious here. The question could be asked: What had Jesus done to necessitate such an inhumane response? The Jewish clergy and the Roman Prefect Pontius Pilate, the governor of Judea, had together brought Jesus' end. In the gospels, one learns that Pilate wasn't that enthusiastic about having Jesus crucified, but had gone through with it in fear of public backlash. Religion and society had together murdered Jesus. Even though Pilate himself wasn't a Jew, he took a stance against the truth for the sake of his state. The accusations against Jesus were that he had incited rebellion.
In the modern era, Albert Camus had written of similar sentiments in his novel The Outsider, where a man had languished under the state's laws just for telling the truth. The result had been a death sentence. After Camus came out with the novel, a controversy broke out regarding the godlessness of the protagonist and his hedonistic way of looking at life. Particularly as many were tempted to think similarly. But Camus had said that it was not his nor his characters' objective to show that there was no God. Rather, it's the truth for which Jesus had to go through crucifixion. His characters, too, had died just for the cause of truth.
The history of human progress is the same. The sacrifice and hard work of a few people make it easier for the rest. The next generations reap these benefits. If one followed the teachings of Christ completely, then there would be no progress left. But the truth he had sacrificed himself for has to be repeated by generations thereafter. His example does not fit well with our civil society. For Jesus' transcendence is a matter of our thought; it is part of our nature. That is, it is true one can realize without needing prior knowledge. But today, human civilization is at a stage where proscribed knowledge and innovation had made it difficult for humanity to achieve the knowledge of human nature. Or perhaps we forget the fascinating achievements of human nature. This is why civil society reaches the lower echelons of society through various social and educational programs. One is not able to attain the title of an intellectual outside of it. They are pumped out from institutions, ready-made. He has to justify his reasoning through a comparative analysis of his contemporaries. And not just this, he must play an activist role as well to drive down his image.
It's not just me who had called Jesus Christ an intellectual, but philosophers Antonio Gramsci and Julien Benda had termed Socrates, Jesus Christ, and Voltaire as prominent intellectual figures.
In fact, an exemplary case of an intellectual before the birth of Christ is Socrates. His claim of it is hardened by the fact that he had questioned the conventions of society, the aristocracy of his time, and the Gods through his reasoning and without consorting to any separate belief system.
The accusations against him were that he had insulted the Greek Gods and led the youth to a path of immorality. Perhaps in the eyes of a society that was the truth. But what were his reasons for doing so? He did not want to be a King. Nor did he receive patronage from any party or institution. Even though his students were part of the aristocracy and had helped build his academy and a student of his student would go on to teach Alexander the Great. Although he limited his discussions to epistemology, his teachings had a greater influence on society. He led his students to dream of a new state. He had logically presented the ideals of a utopian society. Even as Aristotle had later talked of the futility of a utilitarian state as expounded by his tutor Plato. Such events at least testify that even for a small amount of time, Greece was ripe for philosophy and intellectual awakening. However, we've seen the result. Despite being a society governed in theory by reason, the elites had the state cornered. The youth had to go beyond the teachings of the state. Believing in Socrates' truth made them a lie. This was why Socrates' death sentence had proved futile. Perhaps this is where a real intellectual differs from the general public. A true intellectual would take his acquired knowledge in the context of entire humanity. He would understand that his knowledge would be eternal for humanity thereafter. His physical being would diminish after a few moments. The consequences of our physical existence are the same in the context of time. But the intellectual heritage is immortal. A true intellectual would perennially come to terms with this truth.
Any dictator or despicable personality would today condemn the killing of Socrates or the crucifixion of Jesus. That they would never have done it. But if one only had a moment of introspection, we'd know that the same has been happening nearly every day, where people are losing lives and time behind bars for having a different opinion. And a majority of the time this happens with State support. But the question remains: Where do these people get their differing opinions and the courage to die for them from? I think of this as a part of human nature. The past wisdom of the wise is often present with us in our lonesome journeys.
The principle question here is this: Why are intellectuals killed? The intellectual killings that took place on 14th December 1971 – were the first of its kind? Or had there not been any similar incident taking place thereafter? I am not aware of all the events that had occurred in history. Besides, not all events are worth a mention either. But more or less, everyone who has some institutional knowledge of this is aware of one or two intellectuals who had been treated as such. And if the intellectual killings in our nation stop, then we might have to come to the conclusion that no intellectual is born anymore. Or perhaps we've somehow attained utopia. Either one of the two is true, and the former being true is a reason why the civil society of our time cannot enjoy the independence and freedom we are owed. Or perhaps they are being martyred every second and we aren't aware of it, for their preoccupations obstruct their recognition as intellectual. Presently, our society is divided into opposing camps which makes it hard for a genuine intellectual atmosphere to foster. In that sense, we can say the killing of intellectuals is taking place in a myriad of ways. We can also come to the conclusion that the intellectual is always a minority, whose protection is often predicated on how "domesticated" the intellectual is. Rather, the intellectual face a big crisis in a society clearly divided on social, political, and religious grounds. In the days before, there was a ruling class and a public.
"We have no intellectuals in this country", I'm not willing to believe. There might be less of it, or perhaps more than I'm aware of. Of course, the late Ahmed Sofa had said, "If Bangladesh had listened to intellectuals, it wouldn't have become independent. And if it had listened to them after independence, it wouldn't have developed." It is only natural for our intellectuals to sometimes take sides. It isn't that they do not speak up at times. But there are some who support even the worst of their parties. And even when they don't, they don't speak up. Yet when the opposite party commits a little transgression, then they wouldn't let go. Even go as far as they term them a middle-man for the party. It is not, of course, uncommon for these deviations to take place. It isn't for the intellectual to correct the space for public discourse through their celebrations and condemnations but rather finding a place for them to safely survive without having to compromise to extremes. Being called a Rajakar or a RAW-agent, is just a couple of examples. However, it is of course true that most intellectuals are now opportunistic agents latching onto parties for influence. From a political point of view, it might not even be reprehensible at all times. If the propagation of ideas is solely geared against the establishment then it does not go too far into helping people live their lives better.
The object of the democratic and bourgeois intellectual is to move society to a comparatively welfare-orientated state, to have state institutions working properly. Yet, the ideas of the previous decades have yet to yield the same level of success. I'm yet to clear up the reasons why I've brought up the intellectual killings. The Bengali people had landmark contributions toward freedom movements, principally with the help of two events: the language martyrs' day of 21st February and 14th December. The two days have seen immense brutality of humanity. But it is not human cruelty that I want to write about, but merely ask how come it was the Intellectuals who were targeted. The answer we have learned before. True intellectuals work against a despotic regime. It is a deterrent towards many of the cruelties that go on to shape political power. One could also say that many of our important memorial days come from killings and massacres. The most dangerous instance here is turning the event into a symbolic notion, whereupon the true lessons of the events are forgotten. These events are often intellectual movements for the emancipation of the common people, and it is perhaps evident that any state-power would see to it that such events are turned into abstractions.
Therefore, these intellectual struggles start anew every time. Power is yet again consolidated. The preparations for silent killings are undertaken. The State does not do this alone. Social, religious, corporate, and international interests work together to this end. Generations after independence, we must have a moment of reflection: are we hammering in the last nail of the coffin, or have such memorials lost all importance? It isn't only killing physically, but there are ways to mentally kill an intellectual and put a stop to the ideas.
Regarding, the Iroquois event I had talked of in the beginning, Campbell had said that it was essentially a form of Christ-killing. But Christians who perform Mass every week cannot understand it. We, too, see such intellectual killings occurring right in front of our eyes and cannot realize what we witness.
A poet, essayist, and novelist based in Dhaka, Bangladesh. Have worked as a journalist for Dainik Bangla, Bangladesh Sangbad Sansghta (BSS), and Sokaler Khobor. His work includes: In Praise of Mahfuza (1989), Toward the Pasture (1995), Nazrul – Spokesman of the Third World (1996), The Ball's Odyssey (1998), The Birth of the Maternity Clinic (2006), The Dominance of Language and other essays (2005), Rabindranath's Travelogues (2010), among considerable others.