From far away, the large sculpture looks alluring—a fine carving, ancient stories of Mahabharata and Ramayana, of defeat and victory—but as I approach it seems to shape-shift. Almost all sculptures exhibit three-dimensional figures. With thousands of figures, miniatures to as large as mountains, they serve as bright, suggestive glimpses of the possibility inherent in the lost city of Vijayanagara. Visiting these sites seemed like reality of the time, and some of their dreams.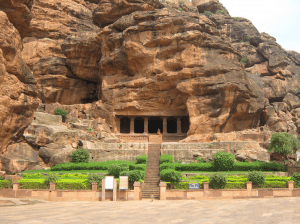 My parents and I set out on a historical tour of southern India. We covered many sites ranging from Somnathapura to Bellur, to Pattadakal, to the Badami caves. Each site, each figure looked different. To me, they looked like they were made of desires and fears, even if the threads of their discourse seem secret, their rules must be absurd, their perspectives deceitful, and everything must have concealed something else.
The material used was stone, abundantly available from the nearby landscape. The landscape is mostly dry, a strangely wild place to have been the birthplace and capital of an empire. The whole of it is dotted with little, barren, rocky hills and immediately to the north flows 'Tungabhadra' River. The hills are of granite weathered to myriad shades of almost every colour, from gray to brown and from dark green to black.
The sculptures on the walls seem to be as numerous as the stars in the sky. They are everywhere. They have stood on the top of the highest towers and laid down in sanctums and on stone tombs. They have stood on horsebacks and elephants, kneeled, prayed, fought animals and wars, danced and moved from one form to another. They have adorned cornices like flowers of botanical garden. They have sat in the middle of nowhere in the harshest summers and the coldest winters. Some wore intricate costumes, with garlands of gold and silver, others crowns of diamonds. Some wore as many clothes as one can possibly wear, and some are absolutely bare. Most have unique expression. Men and women, dogs and cats, lions and elephants, beasts and heroes, monkeys and donkeys, wise men, prophets, angels, saints, clowns, dancers, entertainers, prostitutes and seductresses—all under one roof.
The sculptors lavished their skill on the mandapas that contained elaborately carved and symmetrically spaced composites of various types. The ceilings are also carved and appear to have been painted originally. The pillared colonnades exist all along the enclosure walls on the interior of the complex. The pillars have lotus corbels. Some are as large as humans, perhaps to bestow stature to a statue. All locked up in the ruins.
Invaders defaced most of statues and sculptures. Though the scars of destruction are old, the signs of annihilation, humiliation, and insult are fresh. Lord Buddha teaches us, 'It's easy to destroy, but difficult to rebuild'. A few statues are destroyed from the base, while others have been defaced or partially cut-off. As if the invaders were set to cut of all lines of humanity. One glimpse at the ruins reveals what they must have seen—traumas from humiliation and revengefulness of defeat. I wondered how one could destroy such magnificence.
After ten days we returned to revive our humdrum in the city of Bombay- the city where technology use is at epitome, but a visit to this place made us realize how people in those days were using "technologies". Air conditioning was done through embedding pipes in the roof and circulating water in them to keep the place cool. Cross ventilation was perfect. Bathing pools used by the queens had a perfect inlet and exit system for water.
To me, these sites exhibit their power, the deception of appearances, confusion of identities, and multiplicity of selves that cluster within us. These ruins draw viewers into them, around corners, readjusting our notion of space, effort, dedication and imagination. The beauty existed in the endurance of the effort to integrate, to reach another rung of awareness. What we see today is twenty percent of what was original. The rest was destroyed, looted and demolished from the roots. Today, with their mix-of-lost-and-found materials and assemblages, they serve as cheerful, suggestive glimpses of the possibilities embedded in civilization of a mankind —answering the most fundamental question of how we lived, imagined, created, destroyed and rebuilt ourselves.
Vardhan Patankar is studying to be a marine biologist. He is particularly fascinated by marine life that lives amongst coral reefs, but observes upon other creatures and things of beauty with just as much wonder, amazement and fascination.