Father never told mother about the secret. She discovered it from aunty G. who only told her because she wanted mother to feel bad.
When father came home from the office mother was in their bedroom. Brother lay asleep in the crib. Father cried, "Hello?" Hello?" and rubbed my head while I sat on the sofa watching cartoons. He entered the bedroom and saw mother lying face down on the mattress, her face in a pillow. Father asked her what was wrong?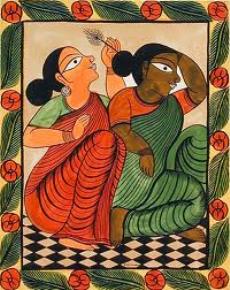 "Does your stomach hurt?' Mother didn't do well with english food. She had been sick three times that month. That's when mother said, "Why didn't you tell me you were married before?"
Father's face turned tomato red. He sat down on the edge of the bed. I liked that mother didn't scream at him. She did not throw the pillow. She did not throw the lamp or anything else in the room. She sat up, wiped tears, and stared at father. She waited for him to tell her the truth, ot the hurtful words aunty had used, like "liar," and impure," because she had lied before, about being sick with disease when it wasn't true. Father held his hands in his face.
"Who told you?"
"Gurpajan."
"What did she say?"
"That you had a wife. Maybe a child."
His eyes rolled across the room. The walls were a drab gray. The curtains were olive. The wall to wall carpeting brown. The wall behind their bed had just that one picture of Guru Gobind Singh, the warrior teacher and beside it was just that one picture of mother and father on wedding day. In India. At grandfather's house. Mother looked coy. Pure. Her white sari veil covered her head. A nose ring with a chain attached to an earring bellied. Being pretty looked painful. Father wore a turban then, and wore a black beard then, and he was looking down and smiling at mother. It was a black and white picture and they both looked full of lovely. Mom's coy expression. Father's smiling one. Guru Gobind above them.
"The woman tricked me into marrying her," father said.
"What was her name?"
"Why does it matter now?"
"What was her name?"
"Indian women in England are different."
"I don't care."
"She was crazy. She was married before and not even divorced. She had a daughter she didn't tell me about."
"Is that the truth?"
He paused.
"Yes."
"Who else knows?"
"My brother only."
Mother said she would not take brother who was still asleep in his cot and go back to India. She would be shamed for doing so, but she told him that marriage was sacred and that he must prove himself. She would not telephone call grandfather and beg him to take her back, because she still didn't know how to use the English phones.
Before father came home she had screamed grandfather's name–Daddy! Daddy! Daddy! Daddy! She had pounded the pillow she had cried in with her fists. But grandfather was too far away to hear her voice. It was three in the morning in Lucknow and grandfather was asleep.
"Daddy must never know."
"I agree. I am–"
"I won't accept your apologies."
What could she do? She did not work. Father kept her sheltered just like grandfather had done. Father knew the numbers on the bank account.
"I wanted to tell you in my own way, not like this."
"No more lies?" she said.
"So help me God."
For the next few weeks father slept in the living room on the couch. When he returned to the bedroom one evening after she told him it was okay, their wedding picture leaned against the wall, facing backwards. On the wall where the picture had been was a tiny crack from the nail.
Mother offered her cheek when father tried kissing her. Then told him she felt sick. Father rolled his eyes over the room. The olive drab curtains were drawn. He said he would replace them. The carpet was still dull gray.  That would go too. The walls were still walls, gray as the London rain.
Father slept that night in their bed but not very well. I watched TV till late at night. Brother stayed in his crib. Mother slept like a baby.
Surya K. Kalsi , lives in Napa, CA with his wife and two dogs. His novella Ghost Notes is due November 2013. He is also currently at work on a novel called Somerset, about a "stove junker" in northeastern, PA.
S.K. Kalsi's work fuses style and substance to create stories of uncommon emotional resonance and power.