The room was silent and dark accept for the pale light of a lone candle. All the windows were shut accept for a tiny crack in the side window, through which no breeze penetrated the atmosphere of the room. They sat with eyes closed, holding each others hand lightly.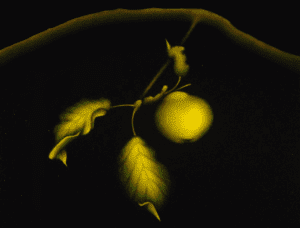 Outside, the pale dark blue vast canvas seemed motionless with no silvery ball to shine and drive lurking shadows of evil away! The trimmed hedges and foliage glistened under the artificial lights of Mumbai's most popular girls' college and hostel. It was cool, still, dark and gloomy this summer midnight. The only things missing were the eerie hoot of an owl and the haunting strains of a musical string.
Inside the corner room on the second floor of the hostel– a candle flickered – its erratic light casting ominous shadows on the wall. And around it sat four girls cross- legged on the floor. They all wore night- suits with serious facial expressions.
"Do you think it will come?" said one of them without opening her eyes. Her breath was coming in short frightened gasps resembling the huffing and puffing of a railway goods engine. She was not ready for this – face it, her mental voice snapped, you will never be ready for this or anything.
Then, another voice penetrated her inner soul – well… it is time I showed them… I am no coward … but can do anything!
She breathed in deeply feeling like a Roman General about to head off into battle!
"It should…" said another. The voice was trembling… just a little. I hope nobody noticed, thought the owner of the voice. God knows how I got sucked into this… this is not right… why can't we just sleep and play board games during the day. True, college was officially going to start in another month and now rooms and grounds did seem a bit empty. But still they had each other, and books, television… they could go for walks, cycling, jogging, and they could go out to a disco, movie theatre, but this was weird! She didn't want to be shunned by the rest for the remaining days and so unwillingly she had joined them.
But maybe this wasn't such a good idea. Her knees were shaking and her left eye was twitching dramatically.
"This could be dangerous…"
"Really…" said a short- haired girl frowning. "This is just a harmless game to pass the time…" She sighed exasperated – she knew what she was doing… she had read books, seen it in movies! They would just do this once tonight and then laugh about it tomorrow. She sniffed and continued with her cryptic thoughts – they were all cowards… not really brave, ready to do the unthinkable like her! Well, she would secure her position as the ringleader and silence all challengers once and for all. Only, Matron in her crackling blue uniform should not come and ruin everything.
"Why do you think it hasn't come yet?"
"Concentrate please…"
The small wall clock ticked noisily as the four girls sat — waiting patiently. And then…
"It is here… I can feel it." Now, they could enjoy some silly voodoo stuff and then go to bed. She wondered what they would be having for breakfast. It had better be good… Dad had paid the hostel fee for the entire summer… now why he didn't take her with him on the ship instead of leaving her in the company of silly girls who wanted to chant strange stuff in the middle of the night – she shook her head.
"It has become cold hasn't it?" said a shrill voice nervously. She shivered visibly and laughed softly. "Let the game begin…" she said. Now she would show everyone and maybe even herself, how brave she was! She should write this down in her diary… she had even thought how she was going to begin—Dear Diary, I am so brave… no one could have ever believed it that I…
"It is here … yippee!" said a bass voice.
"It is here," said the authoritative voice. Thank God! She had begun wondering if she had done it wrong and all that hype and preparation had been for nothing! Good, it was here otherwise they would have teased her mercilessly. Four pairs of eyes cautiously opened.
"So, what do we do now?"
"Do as we had planned," said the authoritative voice. "Aditi hold the hand mirror… it's behind you… and Nisha take the apple and take a bite OK… while Tanya and I close our eyes and concentrate…"
"This is so exciting," said Aditi giggling. "Sonia, did we call a good or bad…"
"I think a good one," said Sonia. "Nisha please…"
"This is so much fun…"
Aditi held up the hand- mirror – its ornate design caught the pale light of the candle and gleamed brilliantly. Nisha slowly picked up the apple and held it to her lips smiling.
"You're next Raksha," she said and looked into the mirror. It was dark and she could faintly make out her own facial outline. She bit into the apple and munching, looked into the mirror – she gasped …
She opened her mouth to scream and saw blood trickle down her mouth – a cadaverous hand was encircling her throat – it was no longer dark in the mirror but then, she could no longer see herself…
A stench was filling her nostrils – but, where was she? She wasn't here in the mirror… and where were the others? What was happening?
Who was screaming – was it her? Somebody was twisting her neck… it hurt… there was smoke… her neck didn't hurt anymore… and now she felt as if she were floating… she couldn't help smiling…
Sonia just couldn't understand – what was happening? What had gone wrong? The mirror lay on the floor and was on fire… where was Nisha? Her apple was there… and – somebody was rubbing her eyes now… yes, she was tired – it must be midnight now… what was she doing? Was she throwing up? Were those her eyes on the floor? Where was everybody? And it was so cold – cold like in hell…
"We have to break the door Matron," said the guard. Three beefy guards bore down the door. The fat matron stepped in sniffing – the foul smell of rotting flesh was nauseating… And then she stopped – eyes wide open – she recoiled in horror…
Four mangled female bodies lay in a pool of blood. One body had a skewed head while another had a severed head smiling grotesquely… two pairs of eyes were floating in a sea of gooey yellow- green… it was splattered on the walls…
Vomit – thought Matron, hand to her mouth.
What had happened? She gingerly stepped inside carefully placing stockinged feet incased in black heeled leather sandals.
A finger – long painted pink nail — was stretching across the pool of red as if reaching out for help. And in the corner – on the fringes of blood and vomit stood a half- eaten apple…
Nirupama Akella is published academic and fictional author and poet, having published her first novel titled "The Summer Break that" won several awards in Shankars International Competition; She has also participated in many national academic conferences.