"It was a dangerous poem, Master Hsi-wei. The late Yang Guan was a parricide, a murderer of the people, the cruelest of all the emperors."
"But, to give him his due, a competent poet."
"Granted, but a vain and jealous one with a penchant for disposing of rivals. You must know about Wang Zhou and Xue Daheng."
"It goes to prove the saying that saplings survive gales that topple great oaks. I suppose you're right, My Lord. Had I been a court poet—or a better one—I'd have been lucky only to be exiled."
Two years after the assassination of the last Sui emperor, Fang Xuan-ling, a second minister of the new dynasty, stole two weeks from his duties to pay a visit to Chen Hsi-wei. Fang learned that the vagabond poet, peasant, and sandal-maker had retired to a two-room cottage, a mean and grudging gift from the governor of Chiangling. By contrast, when informed that a Tang second minister would visit Chiangling, the governor was quick to offer him an entire wing of his official villa.
Fang had long admired Hsi-wei's work and was curious about the origins of his unconventional verses. Each morning, he had his attendants load the carriage with food he ordered from the governor's kitchen before making the five-li trip from the city to Hsi-wei's damp lodging outside the city. As they sat in the small, cobbled area Hsi-wei referred to as his courtyard, Fang made notes of their conversations and carefully transcribed them into his journal each night.
Toward the end of the last week of his visit, after a hearty lunch of pork dumplings and baked carp, Fang asked Hsi-wei about the poem people called "Tall Trees in Xiyuan". Xiyuan was the name of the garden built by Yangdi when he relocated the imperial capital from Daxing to Luoyang. Like everything the ruthless and profligate Yangdi did, his garden was on a gigantic scale and extravagantly costly.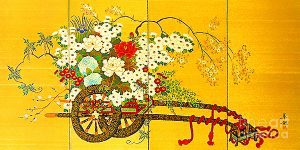 "I assume you never actually saw the garden?"
Hsi-wei smiled. "You know how the poem begins, My Lord. People like you might be invited in to admire it; people like me would never be permitted near the place."
"No. But what I'd like to know is what prompted you to write about Xiyuan. Of course, I understand your verses aren't wholly or even chiefly about the garden, but still, it is about the garden."
"The poem's about Yangdi," said Hsi-wei curtly, almost with distaste. "But, as I'm always flattered by your interest, I'll gladly tell you how I came to write it."
Fang ordered one of his attendants to prepare a pot of the rare Yunnan tea he'd brought, took out his paper, ink, and brush, then settled back to listen.
I was making my way to Huangshan, Hsi-wei began. I had a wish to see the famous mountains. On the road, I came upon an astonishing sight, a convoy of enormous carts made of thick oak planks reinforced with iron bands and with enormous wheels—eight of them on each cart, each higher than a man with his son on his shoulders. The carts were wider than the road and each was pulled by a dozen oxen. On all sides, peasants yanked at the animals and shoveled away the mud; they sweated, levered, and shouted curses at each other and the poor beasts. The peasants were overseen by cavalrymen with short swords at their sides and long whips in their hands. Each cart bore a massive pine with fantastically contorted branches and trunks. It would take three men to encircle with their arms. The roots were wrapped in burlap made tight with hemp ropes. Men constantly doused the roots with water drawn from tuns hanging from the sides of the carts.
I got well out of the way of this hellish procession. I judged it prudent not to ask any questions. I found out what it was all about later that day when I arrived in a village at the foot of the mountains.
The houses in Xidi are small wooden structures of a square design I'd seen in old paintings. The villagers keep a few pigs and chickens, and each home has a small vegetable garden, but the land is too steep and rocky for proper farming. They make their living from the forest. The peasants there have beliefs as old-fashioned as their houses. To them, the forest is sacred. From what I could make out, they believe every tree contains a spirit. Some hold the souls of ancestors, others of animals, and still others are homes to spirits that can be either friendly or hostile and are to be feared and placated. Mrs. Hong, the elderly woman who let me stay in her shed, explained all this to me. She said that whenever to meet some special order they had to cut down a big tree, and there was a ceremony. From her account, it was part funeral, the part ritual of thanksgiving, part prayer for forgiveness.
I asked her if people believed that cutting down a tree destroyed or freed the spirit inside it.
Mrs. Hong surprised me by shrugging and saying, "Well, Donghai Li believes one and Mrs. Shin the other. Nobody really knows. Either way, since the emperor's men came last week, everybody's upset and frightened. They destroyed scores of trees and dragged off the best and oldest. They also took twenty of boys and men, promising we'd get them back within the month. They said that, if our boys worked hard, the emperor would let us off from half a year's taxes. We're in mourning for the damage to our forest and scared for the boys. Nobody can say what will become of the poor spirits in the pines or what's in store for us without them."
After learning more from a retired soldier in Lingwu, I pieced the story together. It seems that when the landscape architect Li Yungang proudly showed Yangdi his new garden; the emperor was not well pleased. Extensive and beautiful though it was, a vast elaboration of his father's imperial park in Daxing, with lovely gardens inside gorgeous ones. Something was lacking, something Yangdi insisted he must have. He wanted trees and not just any trees, but the tallest in the Empire. He ordered brigades of cavalry into the provinces to conscript peasants, dig up the trees, and haul them back alive to Luoyang. The task was all but impossible, mad. New carts had to be devised, wide roads cut through dense forests and countless trees cut down to make way for the excavation and transport of the giants. Nobody knows how many peasants were brained by falling branches, crushed beneath overturned carts, squashed by rolling trunks, or drowned by capsized barges. Also uncounted were the victims of fevers, hunger, exhaustion, and beatings.
I can't say if the people of Xidi had to pay only half their taxes that year, said Hsi-wei bitterly. I suppose it's possible.
Minister Fang put down his brush and sighed.
"Everybody knows Yangdi sent millions to die at the Canal or the Wall. We all know about the thousands annihilated in Goguryeo and the battalions that perished in Champa's jungles. But I didn't know about the trees. Are you sure of this story? I visited Luoyang last year and didn't see anything like what you've described."
Hsi-wei calmed himself by pouring out two cups of tea.
"My Lord, I was told that when the news of Yangdi's death in Danyang reached Luoyang, the people looted his palace and despoiled Xiyuan. They cut down all the tall trees, hacked at them with axes, sawed them up to use for lumber and firewood."
"It was, I suppose, a kind of revenge."
"As I said, My Lord, the poem is about Yangdi. When I heard what happened to the garden, I thought some of those wielding the axes must have felt as if each tree held the spirit of the hated emperor, that every blow was directed at him."
The sun was almost down. "Well," said Fang with a sigh, "I should be leaving now. You must be tired, Master Hsi-wei." As he put away his ink, brush, and paper, he added, "It really is lucky that nobody showed your poem about the trees to Yangdi."
Hsi-wei smiled. "Like most peasants, I prefer an absentee landlord."
"Ha! Now, with your permission, Master, I'll be back tomorrow."
Hsi-wei stood, bowed deeply, and, as he did every day, thanked the Minister for his condescension and for the fine meal.
Fang summoned an attendant and handed him the rosewood box in which he kept his writing materials. He glanced up thoughtfully at the darkening sky and raised a finger. "I think tomorrow I'll have the governor's cook prepare bird's nest soup and, hmm, yes, duck with plum sauce. What do you say?"
Hsi-wei bowed once more.
Tall Trees in Xiyuan
The sumptuous garden is not for the likes of me,
yet if I shut my eyes I can travel all the way to Luoyang.
I imagine fragrance of osmanthus and aroma of peonies
hovering above Xiyuan's six ponds like morning mist.
Across lawns smooth as a magistrate's new
baize-covered desk, cunningly disposed shrubs
explode weekly like strings of timed fireworks.
Decorated and delicate as court ladies, eight
Pretty painted pavilions stand about with beckoning doors.
Beside magnolias and wisteria, water diverted from
the Luo burbles through rocks clad in emerald moss.
And over all tower twisting Huangshan pines, gigantic
fan-like ginkos, lofty cypresses, all torn from their homes
like conscripts at the Great Wall and Grand Canal.
The great trees that grew up elsewhere stand to attention
like the emperor's bodyguards, indifferent observers
of the pleasures below.
I've heard Xiyuan is made of
gardens inside gardens, outstripping in complexity
even the legendary park of Han Wudi.
Xiyuan gives no hint of the crushed oaks and firs,
the hacked arborvitae, felled birches, and dead
maples rotting away in provincial mud.
These monumental copses stretch from dirt to sky.
In the Emperor's garden everything is
clipped and cared-for, clean and serene.
There's not a single corpse to be seen.
Robert Wexelblatt is a professor of humanities at Boston University's College of General Studies. He has published eight collections of short stories; two books of essays; two short novels; two books of poems; stories, essays, and poems in a variety of journals, and a novel awarded the Indie Book Awards first prize for fiction.