If ever you go to Laxmipuram and ask for the house of Veera Venkata Satyanarayana garu, nobody will be able to tell you. But if you ask for the house of Gandhi garu, immediately you will be shown the house of Satyanarayana garu.
The reason why he got this title is for the manner in which he dresses. During his college days, he happened to participate in the Independence Movement. When he was imprisoned, Satyanarayana garu started wearing khadi, having seen and being inspired by all the prominent freedom fighters. He saw Gandhiji once, and started wearing his dhoti up to knee level, ever since.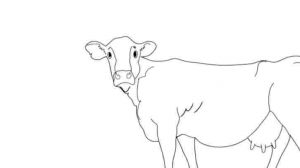 By the time Independence came around, our Gandhi garu too acquired a bald head. To conceal it, he used to get his head tonsured every week by Kistappa, the barber. People observed his striking resemblance to Gandhiji and started calling him by that name. Soon, his real name was forgotten.
After independence, even though all of educated freedom fighters got jobs, our Gandhi garu didn't get any, in spite of having studied B.A. "This sir is wont of belittling those who helped him. So how can he get a position?" said our Gandhi garu's contemporary and village-head Raghuramaih garu. Lack of position notwithstanding, Gandhi garu enjoyed his life by engaging himself in farming, on a 100 acre land left by his ancestors.
Our Gandhi garu built a house in the city for the sake of educating his children and housed them there. He gave away his village home to his siblings and built a farm house for himself in the fields. He used to wake at 4 in the morning and do breathing and yoga exercises. Bath follows and, after that, he washes his own clothes. He eats chaddennam, food leftover from the previous night, for breakfast at 9, and attends to the farm works till noon. Then lunch, followed by rest up to 3 o'clock. Farm works resumes again from 3 to 6, supper at 7 and, after reading some spiritual texts up to 8.30, retires to bed.
Five farm workers, led by one head worker, would assist him on the farm. Our Gandhi garu appointed one Narasiah as the head worker. Narasiah comes daily at 6 O' clock, milks the cows and dispatches a sear and a half to the wife and children of Gandhi garu, and the rest to hotels in the city, after setting aside one sear for Gandhi garu himself. He also cleaned the cattle shed, gave water to the cows, sent them out for grazing, and performed other such works. And later, if, time permitted he would oversee the farm workers. He would to supervise them; and later still, after he made sure the cattle were secure in the shed by evening, he made them milk the cattle and send the milk to the city, and then go back home.
Gandhi garu is a very intelligent man. The way he had his farm house built and the way a 20 feet-in-diameter well was dug by its side stands testimony to this. In the first place, he was apprehensive of building a wall around the well as that would be expensive. He built the cattle shed some distance away from the well so that the slush from the shed would not seep into the well. He also built a 300 feet square-shaped stoned platform in front of the house so that grain and other such stuff could be conveniently spread for drying out in the sun. From the terrace of the house, a panoramic view of his green 25 acre stretch of farm land can be seen.
Our Gandhi garu never used a brush to clean his teeth. For that, he grew two Neem trees behind the well. After the daily yoga exercises, he is accustomed to break a twig from the Neem tree and use it for brushing his teeth. One day, while breaking a twig thus, he slid and fell into the well. Our Gandhi garu doesn't know swimming. He started crying out, "Help, help," from inside the well. The head man, who was overseeing the milking activity, heard the cries and came running. He was taken aback to see our Gandhi garu inside the well. Immediately, he jumped in and rescued him.
Since the head man saved the life of our Gandhi garu, there is no big deal in anticipating that he would be definitely rewarded. As expected, Gandhi garu called the head man. "Oh, Narasaih! "he said. "You saved my life, so take those 10 bags of paddy kept in the portico." "As you say, Sir," said a beaming Narasiah. "I shall take the paddy home in the evening, Sir." So saying, he was about to return to the farm work, but our Gandhi garu interjected. "You gave a new life to me. Which means, you are equal to God. For me, taking work from you amounts to a sin. Therefore, from now on, don't report to work."
The head man was dumbfounded.
Read translation of Dr. Veluri Rama Rao on Indian Review.