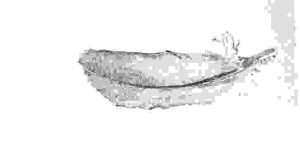 He played with the smooth contours of the amulet around his neck. On the embossed silver, he felt the protrusion of Ganesa's axe held aloft in his upper right hand. Not far below was the lower right raised in blessing. The surface behind the god's shoulder went deep. The amulet had belonged to his maternal grandmother who had taken it out of a pouch under her pillow and tied it around his neck with fingers that trembled. She was dying. He was still a boy but she had whispered to him that the priest of her village had empowered the amulet with special rituals and prayers at the consecration of the Ma Kosi temple. She had wheezed, "The axe will cut off all attachments to the world. His hand in blessing will make you fearless." Her smile had deepened the wrinkles in her small face even as her breath sputtered in small gasps. She had turned her face towards the open window, looked far far away, and then closed her eyes.
Though she had two sons, his grandmother had chosen to come to Patna to live with his mother, his father and him during her last days. His mother had been tender. She had understood her mother's cheerful acceptance and had nursed her with minimum medical invasion. When she died, he went with his parents and uncles to his grandmother's village to scatter her ashes in the river Bagmati. His maternal grandparents had been landowners. Because the Kosi changed course often and flooded its banks eroding fertile land, the landowners had collectively started a Ma Kosi fair and built a temple to propitiate the goddess so their maize and rice and vegetables would be protected and there would be fodder for animals. The site for the fair and temple had been chosen for its sacredness, as the Kosi had flowed there just a decade ago. The villagers had claimed the erosion had lessened after the temple came, but nobody could tell for sure.
He waited for his Facebook page to open. A vein in his temple throbbed gently. Thak…thak..thak. He scrolled down quickly. His cousin Piyali had posted 35 photographs of a trip to Ladakh. She stood like a muffled-up dwarf below her looming husband under a yellow signboard, Khardung La pass 18,379 ft. The rest of the photos were poses against luminous brooding treeless landscapes. He should call her, he thought. He had seen her last when his father died two years ago. She had come with her parents to the family house in Patna to commiserate. He checked his phone to make sure he still had her number. He clicked on Comment and wrote "Great photos, Piyali. Let's catch up, yaar!", scrunching up his temple to control the throbbing. He paused at an ad for alternative therapies for cancer, then switched to Twitter.
The door clicked open and Kamya entered in her end-of-day perfume waft. In an immaculately tailored trouser suit, she looked fresh as a daisy. In the soft bedroom light, the blonde streaks in her copper hair dimpled bewitchingly. She greeted him cheerily, threw her laptop bag on the bed and kicked off her pumps before moving to nuzzle his forehead. He held her to him gently, the throb in his forehead unceasing.
"God, Vikas, I forgot to text you. Shanti is sick again. We need to order out. What will you have? Pizza?"
He shrugged.
"Please order, sweety. I am going to take a shower. I have to take a client call from Brussels. In 20 minutes. I need to move to the verandah. Calls keep dropping in here. Have they fixed the street light? Last night it kept blinking at me like a weirdo," she said.
"Street light?" he murmured fuzzily, light now throbbing in his head. The last smell he could remember was of peach body wash, as Kamya came humming out of the toilet to find her husband stare bleary-eyed at her from the bed – eyes closing gently, one hapless arm flung diagonally over her laptop bag.
For ten, maybe fifteen years all he could remember was 80 work hour weeks, maybe a hundred. At work, they said he had passion, he was driven, he loved what he did. He knew he was good, bloody good. As an investment banker for a leading Indian bank, he looked all day at trends, numbers, profits, projections, bottom lines. He researched the innards of a company till it appeared naked as a stripped tree on his laptop screen. As broker, it was his business to sell the right companies the need for outside investments and get funding sharks their due returns.
His 'due diligence' reports – written after painstaking research into a company's balance sheets, its projected growth, the particular industry's projected growth, the company's market standing vis-à-vis its competitors, its long-term stock prices for projections – had been called 'immaculate'. They had better be. There was too much at risk. A single miscalculation, a single misinterpretation, a single misinformation could mean a crash so loud it would haunt his dreams forever. Kamya and he together had managed not just to dream but to live the good life. Of course there were Equated Monthly Installments for loans for a house and his car amounting to Rs.1.5 lac a month. The outflows would continue for the next ten years. So what, he thought. So what? He was good, he was brilliant, he would make it big, he knew.
The house was dark when he entered but it smelled of freshly cooked food. Shanti must be back. Kamya had left very early in the morning. She would return by the late night flight. He switched on the lamp at the study desk. He preferred this to the several ceiling lights that blazed alive to a single switch. He turned on his laptop and stepped into the toilet for a shower.
With a hand still damp from his bath, he clicked open a new text message from his mother. He sat down before reading it. She wrote: I am fine. Mausi[1]will come on Saturday. She is so cheerful. I look forward. Shyam Singh is always there. His granddaughter Panna is here from village so she will spend nights. How are you, Vikas?
He saw there were 334 messages in the phone's message thread – one or two every day. His mother's sister had been visiting her from Ranchi every week for the past six months. The call history on his mother showed few calls – the last one from him was three weeks ago.
She had been with him nine months ago. On her request, he had taken her to Haridwar. She had wanted to see the evening prayer from the Triveni bank at Rishikesh. The priests had stood inches away from the swift flowing river waving brass lamps to the icy waters as they swirled wide and deep, bending out to the distant evening. She had kept murmuring the Ganga verse of praise under her breath: Nama shivayai gangayai shivadhayai namo nama[2]. His grandmother had murmured something similar for Ma Kosi. Standing before the river on that cold evening twinkling with fire lamps mirroring gold ribbons in the river, he had turned to his phone to study the Docs app. Among a rash of Excel files was a single file in Word document. He had read it and his eyes had filled.
"What did you read?" his mother had asked.
"A poem. A poem by Makarand Paranjpe. It's set in Haridwar"
"Read it out," she had said.
He had selected two verses.
"O ancient Mother
in my cupped hands
mountains thaw into streams
the darkening monsoon sky
heavy with sorrow, breaks
in salty trails on my face.
The waters underneath
mingle all in their embrace….
Thus shall we continue to meet
if not in life,
always in death,
at some holy confluence."
He wiped his hands dry before logging onto Twitter. He searched #bcsm, then logged out. He opened Facebook and under Groups clicked on Wings of Hope – Living Forward. He scrolled down quickly. He stopped at the picture of an elderly woman in a pink dress looking sideways into the camera. She was laughing. The post below was from Maggie: "That's my mother in the pink jacket. She passed in 2012. The pic was taken at her 50th High school reunion. She needed a valve replacement and never woke up. She was an angel here and now in Heaven."
Sylvie replied: "Thank you Maggie for sharing this picture of your beloved mother. We will remember her with you and celebrate her life. Sending you much love and wishing you the courage you need."
He paused at a quote bordered with red roses. It read, "A heart break isn't always as loud as a bomb exploding, sometimes it's as quiet as a feather falling and the most painful thing is that nobody hears it…except you." 363 likes 170 shares.
He logged off, then logged in again. He breathed deeply before writing under Lynn's post: "My mother was diagnosed with breast cancer. I brought her for surgery to Mumbai – this big city where I live. The doctors tried aggressive radiation and chemotherapy. But the cancer spread quickly, to the lymph nodes, then to the bones. I looked after her. Then on her request, I took her to the holy city of Haridwar. She felt at peace. She wanted to go back to her hometown. She has been living by herself now for several months. I have arranged for a day nurse and a doctor to visit her every day. Now they can only give palliative care. I took six weeks leave during her treatment so have been strictly denied more leave. My wife wants me to focus on my work. She worries about our loans and that I could be sacked. She keeps saying – one is as good as one's last project. I am not able to talk to my mother any more. What to say? I can only text message…but I wait for her to call, terribly. But all she does is reply my messages, everyone, every time." He used the Backspace button to delete the message. The space under Maggie got reduced when empty. He logged out.
When he rose from his slump, he fumbled with the string of his amulet at the back of his neck. It came off with surprising ease. He stared at the god embossed in silver. He now remembered what the other objects represented. The conch symbolized the inner voice of truth and the mace the power that pulled one closer to it. He put the amulet into a plastic zip pouch and pushed it into the back of a drawer full of bills to be paid.
*************************
Neera Kashyap has worked as a newspaper journalist, specializing in environmental journalism; social/health communication and research. She has authored a small book of short stories for young adults, Daring to Dream, Rupa & Co, 2003 and contributed to three anthologies from Children's Book Trust. Her essays have interpreted scriptures and ancient literatures for print journals such as Mountain Path and Life Positive. Her short fiction, poetry and creative nonfiction have appeared in literary journals such as The Earthen Lamp Journal, Muse India, The Bombay Literary Magazine, Reading Hour, Out of Print Blog, Aainanagar, Cerebration, Ashvamegh and Kritya. She lives in Delhi.
Mother's sister ?

Salutations to that river Ganga, who is dear to Lord Shiva, and who does good things. ?
This story was previously published in Muse India Issue 71, January-February 2017.