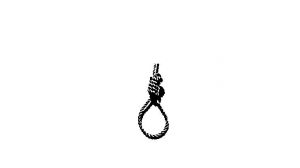 He had put his head down on the dirty teal plastic table in a corner of Govinda bar when I found him. Once my eyes adjusted to the congealed cigarette smoke that made up the bar's atmosphere, I saw the nearly-empty bottle of Hercules rum that lay in front of him. His leather satchel lay on the floor next to the chair. His black coat also lay crumpled on the floor. It must have slid down from the backrest where he would've hung it earlier.
Let me take a step back lest you think he was a common garden-variety drunk, like most of the other middle-aged occupants of the bar that, curiously enough, had been named after the Bollywood actor, and not the God.
Arvind was not a regular at the bar – not for the last year at least. He only came when the world's atrocities became too much for him. And they became too much for him very often for the first three years that I knew him. A fresh, idealistic lawyer, gaping wide-eyed at the intrigues through which the judiciary, police and politicians functioned in Etawah in the heartland of Uttar Pradesh, found himself disillusioned, and more importantly, without a case, very often in those years.
I'm sure you think that I would've met him at the bar during one of his despair filled jaunts. After all, where else would a middle-aged police constable with no ideals, ambitions or scruples meet a fresh faced young lawyer except at a seedy bar that gave constables pegs of cheap whiskey in lieu of hafta?
But you would be wrong.
We met outside the Etawah District Court one December morning. I had deposited an under-trial to his lawyers chamber, and was waiting in the courtyard for his hearing to end. The sun had made a rare appearance that day dispersing the otherwise perpetual fog. I had loosened my muffler and sought one of the benches that line the courtyard to sun myself while I waited. Arvind was already sitting on the bench when I sat. He had a couple of files in his hands, and the most morose expression I have seen on a human being – and I spend all my time amongst incorrectly incarcerated prisoners, juvenile under trials who had turned middle-aged waiting for a verdict and police officers whose souls had died years ago.
Now, I am usually very wary of lawyers. We don't find the lawyers you see in the movies here. Those that shout 'Objection, Mi Lord!' and protect the law. Here, each lawyer is either in, or is trying to get in, a politician's pocket. And till I know which politician's pocket a lawyer belongs in, I keep my distance.
But there was something about this boy's face that made me break this rule.
                                                        *
As I sat on the plastic chair across from him, Arvind sensed my presence. While the rest of his body remained languid, his left hand clutched at the plastic table, knuckles whitening with the effort of pulling himself upright. He swayed a little till finally he settled on the back rest. His head still looked shaky and his eyes refused to open all the way.
I wasn't surprised. The most I had seen him drink, even when we met at his house, was three small pegs. And I had had to half carry him, snoring, to his bed that night. I saw the nearly empty bottle – there was no way I could carry him all the way to his house today.
I sighed – Purnima, my wife, was going to rant, but I couldn't let him be alone today.
He finally got his red eyes open and focused on me. It took him a minute, but eventually he recognized me.
'Markand?' he slurred.
There was a line of drool snaking down the side of his mouth. I looked at it, fascinated, and just about managed to pull my gaze away.
'Haan bhai, I am here.'
There was a moment when he looked like he normally did. Then his face crumbled.
'They killed him, Markand. They murdered Rajiv.'
I had heard.
Why else had I come looking for him?
                                                        *
Three hours before, I had been eyeing the clock in the police station waiting for my shift to get over. It had been a slow day – the best kind in a police station.
Head Constable Shukla had broken my reverie in his characteristic harsh voice.
'Arre Markand, tu Rajiv Chaturvedi ko jaanta tha? Inter college mein padhaata tha?
'Haan Shukla-ji, he is a friend's friend. What happened?' His use of the past tense was troubling.
'Dead.' He had said. Quite nonchalant.
When you are in the heartlands of politics, murder becomes humdrum for low-level policemen like Shukla-ji and I. Still, I was surprised because Rajiv, who had moved into this town two years back, was not politically active as far as I knew. Nowadays, it doesn't take much to get on the wrong side of political or religious groups and end up with a bullet in your head. But Rajiv had been on the straight and narrow – he taught at St. Mary's inter-college, and went straight back home. Arvind was probably the only friend he had.
But there was that other thing. And you could easily be shot for that too.
                                                     *
But he hadn't been shot. He had hung himself from the wooden beam that ran across his room. I remember that beam. I had seen it when I used to visit Arvind. A dark teak beam with an iron band and hook from which a ceiling fan hung. And now something far heavier also hung from it, waiting to be cut down.
There hadn't been a suicide note. No one to blame, nothing to know. Just the way they wanted to live. The way not many let them live.
I started looking for Arvind immediately. You never know. And I didn't want to find out whether Arvind would leave a note behind or not.
And I found him at the bar named after the slapstick comedy movie star.
                                                  *
'Murdered?' I said. 'No Arvind, it's a case of suicide.'
Arvind looked up again. His eyes were bloodshot, his hair and clothes dishevelled, but what troubled me most was the loud hopeless laugh.
'Suicide? Is that what you think happened? You bloody chutiya.'
As a constable, you're used to gaalis. But this childish gaali from a man I knew never used them, hurt the most.
'Come on, Arvind. I met the constable who responded to the phone call. Rajiv committed suicide. He hung himself. You have to take a hold of yourself. He is no more. I wish it hadn't happened, but it has.' I reached out and tried to put my hand on his shoulder.
He jerked his shoulder away and stared at me with venom.
'Do you really believe that, you fool?' he hissed. And then he saw that I did. After all, it was all there in the report that Shukla-ji let me read.
His voice softened, 'Markand, the hand that put the noose around his neck was his own, but he was murdered nonetheless.'
I looked at him. There was a calmness about him which belied his appearance. I got scared.
'Sure Arvind. You tell me all about it. But let's go to my house. This isn't the place for such conversations.'
He looked at me again, and broke into laughter. Somehow, I preferred his anger today.
'Yes, let's lie low. Let's hide everything behind rules and social niceties. Let's be afraid of anything that doesn't conform. Let's hate always, but never openly. Let's show those who are different their place,' he paused till his red eyes bore into me again. 'You're one of them, Markand. You put the noose around his neck too.'
And here I had to stop him. I couldn't have murder accusations hissed at me in this town. Who better than me to know that such things become rumours and end lives?
'Stop drinking, Arvind.' I hissed back. 'Pull yourself together. Come to my home. Purnima and I will take care of you. You'll feel much better in the morning.'
'They murdered him, Markand. And then they took his body to the morgue, waiting for his parents to claim it. They didn't even give him to me. Do you think I will ever feel better?'
The long-hoarded tears finally escaped his eyes. Within a minute, he was sobbing, tears streaming down his cheeks. His chest heaved as he grasped for air, but he did not resist my arm on his shoulder now. I moved around and pulled him up so he leant on me for support. I picked his satchel and coat in my other hand, and started leading him towards the door. I nodded to the boy who was manning the cash counter. Before I met Arvind, I would probably have slapped the boy for trying to give a policeman a bill. I would definitely not have planned to come back the next day to pay the bill. Being a policeman still has some advantages, if not any respect. But I knew I would have to come back and pay – Arvind would hate if I did something like this.
Outside, I hailed one of the rickshaws that lined the street. The rickshaw-walla was not surprised by the drunk Arvind, and quickly moved to help him board with oft-repeated movements.
We moved over the rutted roads, taking detours to avoid mounds of garbage, deep potholes and stoic sleeping cows. Arvind seemed to be in a stupor. I could see his eyes were open whenever we went through the low orange light of rare working street lamps. I could see that his face had cleared of the tears, even though they had left tracks on his cheeks. But there was not a word out of him.
It suited me fine.
                                                     *
It had become my habit to drop by at Arvind's house three or four  times a week to unwind before I went to my quarters. I wasn't married at the time, and there was no one waiting for me then to pester me to take her somewhere away from this shithole town. We used to talk about the usual – politics, work, bosses, politicians, other lawyers. One day, a couple of months before my wedding, I met Rajiv at Arvind's house. They had met at a book shop near the inter college. Arvind had invited him home for dinner. That day the conversation was different – books and poetry and plays. I was silent, mostly, but the conversation was wonderful. We met a few more times, and I figured they were meeting almost every day. After I got married my visits to Arvind's house dwindled, maybe because I got busy, or maybe the conversations started unknowingly excluding me.
As a constable with patrol beats in a small town, I kept running into both of them. I would meet them when they were strolling in the evening near Pakka Talab, or when they were shopping in Lalpur market, or near the district court in the day. I was too busy with my own new married life to think about them, but I did wish, once in a while, that I could spend an evening at Arvind's house like earlier. But it couldn't be done now as Rajiv and Arvind, both making meagre unsteady earnings, had started sharing a two-room flat. The evenings would never be just Arvind and I talking about politics any more.
                                                       *
It had just been a comment – one of those asides that you throw to get a snigger from a group of sycophants. Little did I know what it would devour.
I still remember the evening when it was released to the universe.
The sun had just set, and after a hot and humid afternoon, there was a hint of rain in the air. The steady breeze that had started half hour back was still swirling plastic bags and stray pieces of newspapers, but had turned from hot to chilly. I sat on the little munder next to the chai-walla, and looked at the pleasant goosebumps rising on my forearm. Pyare, the chai-walla rushed out with a steaming glass of tea and a packet of Parle-G biscuits. The other pavement vendors also congregated around me. The constable's uniform I was wearing ensured that they all stood tittering around me as I sipped my tea, as if I was royalty. And when you are royalty, you want your subjects to love you, not just fear you. And what better way to get love than to say something that would make everyone guffaw?
'So where are the lovebirds today?' I had asked, a snide smile on my face, as I pointed to the padlock hanging from the blue door of the house that Arvind and Rajiv shared.
'Kya Sahib, what are you saying? The poor boys are just sharing a house to save money,' the chai-walla said.
'Oh, is that the only thing they're sharing?' I had winked. The folks around had snickered and a few of them, the more fearless ones, even slapped my back. I had grinned too, and started talking about other things.
But, the thing about small towns is that nothing you say ever dies. It's not like a city where the noise and speed drown out anything you say. Here, what you say, echoes till eternity. It bounces off walls that line narrow streets, it bounces off gatherings around chai-wallas and pan-wallas and shears off into persistent whispers. No one remembers when or how a whisper begins, but it exists forever. It reaches the ears of the client who was just about to hire you for a legal case. Or the ears that belong to your pupils' parents who sit on a dharna protesting your continued employment with the inter-college, however good a teacher you may be. Or the ears of the local priests who declare you immoral. Or the ears of your college's principal when he asks you to leave 'with immediate effect' for corrupting the youth.
Or your own cold, dead ears when you decide to give up and tie the bedsheet on the dark, teak beam.
I don't know why I released it to the universe. All I know is that I had to take Arvind away when he started accusing me of murdering Rajiv.
He was right.
Swapnil Bhatnagar was born in Delhi and stays in Bangalore where he works in the research and advisory field. His true love lies in the written word and he thoroughly enjoys the creative process of writing short stories. He remains fascinated by the fact that he shares his birthday with his daughter – a wonderful sign of things to come.
His work has previously been published in magazines such as Out of Print and Spark.