Venkat was such a simpleton. In spite of being twenty nine years, four years in government service, one year a husband and soon a father-to-be, he was still a pushover. But it wasn't all Venkat's fault. He hailed from Ammapettai, a remote agricultural village in Tamilnadu, where his father was the temple's priest, just as his father before him and as were his ancestors for generations.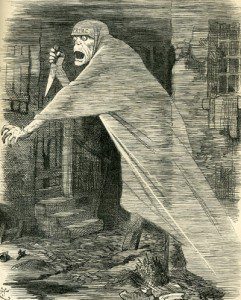 Venkat had no reason to venture beyond the boundaries of his village until he was eighteen and then only to college in Thanjavur, the district head quarters, where again it was a cloistered life; only the location was different. After serving for three years in the village office, he was transferred to Delhi.
Venkat's wife Uma was another simpleton. She was from his village and was related to Venkat in a manner that made her the natural choice to be his wife. When the two were still kids there was a tacit agreement between their two families that eventually the two would end up as husband and wife. In villages like this, such agreements were sacrosanct. Uma was five years Venkat's junior and now nine months pregnant with his child.
The size of Uma's stomach belied her advanced pregnancy. It was rather small. Only the doctor and the nurses at the maternity home in Delhi knew this for sure. In fact the baby was expected around the 24th of October – fifteen days before or after.
When the doctor heard that the couple was planning to go away to Chennai for Diwali and the delivery, she hit the roof.
"That is ridiculous. I cannot believe educated people taking such decisions. Do you know the risks involved?"
Venkat looked at the doctor sheepishly and began to explain that this was their first Diwali and the most significant Diwali for the couple ever. And it was age-old tradition that a couple's first Diwali be celebrated in the wife's house. He explained to the doctor that his application for transfer back to his native village was initially rejected. But eventually his superior relented a couple of days ago considering what an inconvenience it must be for two people in an alien setting, with no knowledge of the local language.
"I don't know what to say. You know the risks. It's your decision. I can only advise you against it."
Venkat tried to dissuade Uma. But she simply would not listen. Her parents would be too disappointed she pleaded.
"#"
Early on the morning of the 10th of October, husband and wife boarded the train to Chennai. Venkat had booked all household articles by lorry parcel service to Thanjavur. He carried only one medium-sized air bag with essentials that Uma would need for the journey.
They kept to themselves as their neighbors – two couples – were north Indians and neither Venkat nor Uma could make conversation. Venkat sat by the window and Uma sat close to him, resting her head on his shoulder and the two slept. They woke up to have lunch and then dozed off again. In fact there was nothing else they could do. The doors of the compartment were shut, so too the window shutters as it was raining heavily. It had been raining heavily for the last four days.
Suddenly, towards five that evening, Uma felt a stabbing pain in her lower abdomen. She bit her lips to keep from screaming. And then, as suddenly, the pain disappeared. Again around seven the pain came back. This time it was more severe and lasted longer than before. She let out an involuntary ahhh and gently rubbed her stomach.
"It's nothing. It'll go away."
Uma just nodded not very sure if that is what will happen.
Eventually it did go away, although only temporarily. And when it recurred, the frequency was higher and the pain more intense with each repeated spasm.
Uma began to groan with pain. The women sitting opposite to her knew what was happening. Pain expresses itself in a language that is universally understood. They came and sat by her side. One held Uma's hand while the other stroked her hair attempting to comfort her. Their husbands began a hurried discussion with Venkat. One sardarji who was sitting nearby also joined the ideating team.
With a mixture of Hindi and English it was decided that Venkat will break journey at Jhansi Railway Station which was just a little more than an hour away. It would be too risky not to. There he would find a maternity hospital not far from the station. The ticket examiner who joined the discussion somewhere in the middle assured Venkat that the railway staff would provide all necessary help. But it was the sardarji, who alighted at Jhansi, did everything that was required.
"#"
Venkat and Uma were at the auto rickshaw stand just outside the station a little before midnight. Between sardarji and a few auto rickshaw drivers it was decided that Uma be taken to a maternity home in the Sipri Bazaar area near Jail Road and Jhansi Road. In a matter of minutes the auto rickshaw was at the hospital and Uma was wheeled in. When Venkat tried to pay the driver, he simply refused to take any in spite of Venkat's pleading. How uncharacteristic Venkat thought to himself, and followed his wife.
The two north Indian couples and the sardarji were a God send. Without their guidance Venkat would have been in a quandary as to what he should do. The auto rickshaw man was an angel in the outfield and the hospital staff was both courteous and methodical even at that unearthly hour. Thanks to all their help Uma delivered a healthy baby boy around one in the morning. She had a simple, natural delivery and could not have been more thrilled. But what the sardarji did was unbelievable. He sat in the hospital reception till he knew that everything was fine with the mother and child.
"I am Manef Singh," the sardarji introduced himself holding out his hand to Venkat.
"Don't hesitate to call me if there is anything you need," said Manef holding out his business card before he left.
The next morning Venkat explained his situation to the chief doctor who advised that it would be a minimum of three days before Uma could be discharged. Venkat had no options. He then went to the railway station and met the Station Superintendent who was aware of the emergency that compelled the couple to break journey. He personally ensured that the couple got their onward reservations.
Venkat and Uma had wanted to buy Diwali clothing for their parents and siblings in Chennai before continuing their journey to their village. But that was now not possible. So Venkat decided that if he was able to get something suitable here he would make better use of the spare time he now had. And so he made enquiries at the hospital for a suitable place to do his shopping.
He was told that the biggest clothing outlet in the Sipri market was just walking distance away. He was also told that the owners of the establishment lived next door. It was then that Venkat noticed two identical houses located side by side. It seems that the two houses belonged to two friends Madhu and Ashok who were equal partners in a chain of apparel manufacturing and retailing establishments in Jhansi.
Venkat learnt that two inseparable childhood friends started this business from scratch and had grown it into a multi crore business. And in all the years that they were public figures they were never known to have had any difference of opinion. They had mutually divided running of the business into distinct functional areas which each took care independent of the other though they never missed an opportunity to keep the other updated. Since Madhu took care of the supply side, he traveled often. However the two friends never let anything come in the way of their camaraderie. The market buzz was that their business success was the consequence of their unquestioned loyalty to each other.
Venkat also learnt that a similar relationship existed between their two families. In fact the two friends married on the same day, honeymooned together, their children studied in the same school, celebrated important days and functions together. The only difference between the two families was that Ashok's wife could drive a car, whereas Madhu's wife was too terrified to even learn. But even this was used advantageously: Ashok's wife dropped off all the children at school and then picked them up in the evening, instead of using two cars for the purpose.
The clothing outlet was just around the corner. Camaraderie in this establishment seems to be infectious: even the staff in the outlet exuded friendship. Venkat regretted that Uma was not there with him. This was one of those rare occasions when not only was he able to find what he wanted, he also got what was normally not expected: sincere concern and attention; a rather rare commodity during the Diwali season.
"#"
Venkat was so busy attending to Uma's needs and sundry shopping that the three days of break-journey just flew. Before he knew it the trio was on the train resuming their journey to Chennai. In a little more than twenty hours they reached their destination. And from there, traveling by train and bus, they were at home the next day.
While Venkat managed to inform close relatives about their probable date of arrival, he was not able to inform them of the delay and the significant developments during that time. When the families saw not two but three loved ones return, their joy knew no bounds. They had extra reason to celebrate.
After the Diwali festivities it was back to the same uneventful grind. For Venkat it was to the village office and back six days a week. For Uma it was keeping house and taking care of baby who they had named Hari in a simple house function attended only by close relatives. Manef Singh was the only outsider that Venkat informed about the function.
Venkat, as expected, lived with his parents. Uma's parents lived just five doors away. In fact the majority of residents on this temple street were either related to Venkat or Uma or related to both. Almost opposite to Venkat's house was Uma's uncle: her mother's older brother Lance Corporal Ramesh, who had recently retired from the Indian Army and had come back to settle in his native village.
The years flew by and Hari was now walking with a steady step and speaking his first clear sentences. In another year he will have to go to preschool. Without intending to put any sort of pressure on the child, Uma regularly sat with him and tried to teach him his first Tamil alphabets in a fun sort of way. Hari seemed to enjoy these moments, frolicking on his mother's back or lap. This went on for a few months and then one day out of the blue Hari uttered the word "Sona".
Uma was momentarily taken aback.
"What did you say?"
Hari just shook his head from side to side and continued to play with his mother.
Uma did not attach any importance to the incident since it made no sense and treated it so trivially that she did not even mention it to Venkat.
However a few days later Hari again said the same word during his fun session. When Uma asked him to repeat the word, Hari simply shook his head as he laughed and ran circles around his mother.
This time however Uma thought it prudent to mention the incident to Venkat.
"Think nothing of it. He's probably mispronouncing some word which we are not able to decipher."
Months went by and Hari repeated the same word several times and no one took any notice of it until one day he said a new word: "hoon."
Even this was passed off as innocent mispronunciation, until one day Hari repeated these words when Ramesh the army retiree was around. The words momentarily petrified the army veteran.
"What did Hari just say?"
"Oh! It's just some gibberish that he keeps repeating now and then."
"It's not gibberish. Hoon is a Hindi word. It means murder."
"That's impossible. How will he know that word? He has never heard Hindi spoken, not even on TV. No one in this house or my parents' house knows Hindi. In fact we know no one, other than you who knows Hindi."
"There has to be some other explanation. There is no doubt in my mind that "hoon" is the word he said and the word does not mean anything other than murder."
When Venkat came home, Uma told him what her uncle had said.
"Just ignore the man. He's nuts. There has to be a simpler explanation"
But Uma just couldn't ignore Hari's utterances. Not only did the frequency of these utterances increase, Hari also added new words to the list. In addition Sona and hoon, Hari began to repeat Niwari and Betwa River Bridge. Even Venkat, as reluctant as he was to ascribe other reasons, agreed that these words were clear, coherent and an indication that this was just a molehill presaging a mountain.
To begin with Venkat did some research on his own in the library in Thanjavur. It did not take him long to find out that Niwari was a place about 30 kms from Jhansi, that the Betwa River ran close by and that there was a bridge across it between Jhansi and Niwari on National Highway 76. He was sure that this had something to do with Jhansi.
From that day on, whenever he got the opportunity, Venkat made conversation with his son trying to find out more. But each time Hari simply stared blankly at him. However the bizarre utterances did not stop. When he spoke these alien words Hari seemed detached, oblivious of the present and the people around him.
In the days and months that followed Venkat went from pillar to post, from shaman to doctors, but never getting any closer to the mystery than they were at the onset of the strange utterances. Some suggested that the child was possessed. Others hinted that he was perhaps recalling incidents from some previous birth. Venkat did not know what to do.
Eventually one doctor in Thanjavur, convinced that this had something to do with a past life, advised Venkat to take Hari to psychiatrist in Chennai. When he saw how anxious this suggestion made Venkat, he explained to the perturbed parent, that hypnosis was considered the most safe and established means of extracting details of past life recollections.
"Don't worry, that doctor will only make your son relax, help him to focus inwards, where according to some researchers, information about this and previous lives is stored."
Ventak and Uma took Hari and met the specialist at Chennai.
"There is nothing to be alarmed; children with past life recollection are common. No scientific explanation for these phenomena exists. But people who believe in reincarnation agree that such recollections are not illusions. Through a series of questions I will attempt to find out exactly what your son is able to recall from his previous birth."
After two consecutive sessions, the doctor was satisfied that he was able to decipher much of Hari's earlier-life recollections.
"Your son claims that in his previous birth he was Ashok from the Sipri Market area of Jhansi and that he was murdered by his wife Sona and that his body was thrown off the Betwa River Bridge."
"Now it is for you to decide what you want to do with this information," the doctor said.
Venkat was agitated. Murder was not something he could disregard. His conscience told him that he had to get to the bottom of it and decide once and for all if it was a fact or just childish illusions. He consulted with his elders who readily agreed. Not knowing what else to do Venkat wrote to Manef Singh about this development. Over the years Venkat had been in regular contact with Manef for courtesy's sake.
A week later Venkat received a telegram from Manef.
"From the sketchy information I am not able to help. Would suggest you come here with your son. I will do everything necessary."
"#"
The following week Venkat went to Jhansi together with Uma and Hari. They were met at the station by Manef.
The next morning Manef took Venkat for a stroll. Venkat detailed the psychiatrist's findings and for the first time Manef realized the seriousness of Hari's recollections.
"Let's not discuss this with anyone before I take the advice of friends here. Some of them are influential and will guide us properly."
After breakfast Manef suggested that they go and meet Manef's cousin – a government employee with considerable clout.
Venkat was so anxious that Hari should see the hospital where he was born that he requested Manef to choose a route that would take them past the maternity home.
"That is where you were born," said Venkat pointing to a freshly painted building as they slowly drove past the maternity home. However Hari's attention was fixed on the two identical houses abutting the hospital.
"That's my house. That's my house," he shouted excitedly pointing to one of the two buildings.
The car came to a screeching halt as Hari reached for the door wanting to get out. Venkat and Uma had to use all their strength to restrain the boy.
"Not now, not now," Venkat screamed as he looked at Manef for guidance.
"Let's not go in alone. My cousin will know what to do."
Manef drove off, as Uma began to wipe the sweat off Hari's forehead.
In less than ten minutes they reached their destination. Manef's cousin was a public prosecutor and frequently meets a number of mid ranking police officers. However after Manef narrated Hari's recollections the gentleman was not very keen on initiating any investigation. He was dubious about the authenticity of the recollections and was not an ardent believer in reincarnation.
"Take my word for it. The child has never left his native village somewhere in the southern tip of Tamilnadu, does not know a word of Hindi and so too his parents. How is it possible for him to fake these past life recollections? A highly reputed psychiatrist from Chennai has studied the child and has recorded the boy's memories under hypnosis. Besides, what motive would these simple people have coming all this way with such a volatile story, if they did not believe it to be true?"
Manef kept repeating his argument till finally his cousin relented.
"I'll initiate some preliminary investigation."
After about two hours a police officer in civilian clothes came to the house.
"I made some initial enquiries. It seems some four years ago Ashok, one of the partners of Trust Enterprises, disappeared without a trace. Although the file has not been closed, no one is even able to guess as to what could have happened to him. Both partners were such straight forward businessmen that they were highly regarded; there were no business rivals and no business enmity. The cordial relationship between the two partners is common market knowledge for almost two decades. The police don't even have a suspect because they cannot think of anyone who benefits from his disappearance."
"Doesn't the other partner gain even if only in some little way?"
"Nothing has changed. The financial arrangement between the two families is the same; the auditors are the same and the other partner Madhu is waiting for Ashok's son to be old enough so he can fill the vacuum left by his father's disappearance."
"What about any affairs? Was any woman involved and the two just eloped?"
"We have no knowledge of any missing woman."
"Then what do you make of the boy's claim that he was Ashok in his previous life and that he was murdered?"
"That, though farfetched, is something we have to investigate."
"Do you think you could take the boy to that house? Maybe he will be able to tell us what actually happened when he is in the very arena where he says this murder took place."
"Yes. Soon."
"#"
The next day was Sunday, the police officer, together with a couple of juniors showed up at the public prosecutor's house around breakfast. Together with Manef, Venkat and the others they left for missing-person Ashok's house.
The moment they reached there, Hari was on pins. Before anyone could respond, he ran into the house.  The others followed him. It looked as if the families from the twin houses had assembled for late breakfast. Hari looked at everyone around and when he had taken in the faces in the crowd, he began to name them one by one. And then his eyes came to rest on a woman in her late thirties.
"Sona," he shouted angrily.
Family members stood rooted, unable to understand what was happening.
"Sona," Hari repeated.
Worry was writ plain across Sona's ashen face. She had a premonition that this would not end well.
"Who is this little boy calling me by name?" Sona asked regaining some self-control.
"Can't you guess?" the police officer asked
His decades of investigative experience told him that Sona knew that this had something to do with her husband's disappearance.
"He was your husband in his previous birth," the police officer explained.
Sona's jaw dropped. Then a moment's silence.
"She killed me. She hit me on the head and then wrapped me in rolls of plastic while I was still alive and threw me off the bridge into the Betwa River that was in spate," speaking in fluent Hindi, Hari accused the woman. There was no more escaping the truth for Sona.
"Yes. What he says is true," she said reconciling to the inevitable.
"But it was not totally my fault. Ask him what he did," countered Sona, looking at little Hari, imagining him to be her murdered husband.
"Tell them," Sona challenged.
"Please. Please don't say anything to anyone. Don't do any more damage than I already have. My body was washed out to sea and my bones lie buried at the bottom of the ocean. Let this secret be buried with me."
If Ashok was so concerned about the pain his indiscretion will cause both our families, why did he sully the sacred trust that was reposed in him? Sona thought. Why is he voicing his past life tragedy through an innocent little boy if he did not want details of that fateful day made public?  She continued to wonder.
And yet she was moved by the anguish in the beseeching little voice.
Maybe he feels that he has paid with his life for his misdemeanor. Maybe he wants me to pay for mine.
"Yes. I murdered my husband," said Sona. "Do what you have to do," she added.
Sona stared at little Hari for a brief moment before she was led away.
With that, all recollections of his past life were erased, and Hari's outlandish utterances stopped altogether.
"END"
S.P. Lazarus is the author of "A Tricycle with Two Wheels" and "An End and a Beginning". He has also written the non-fiction "The Tomb of Jesus and the Ossuary of James. He lives in Chennal, TamilNadu.