'Hey you, just wait a little…
'You have no time?
'Why?
'You don't have time to spend with the mad.
'Yes, without doubts, you are right. But I must share my thoughts with you. If you try to run away, I'm gonna catch you. If you put on ear-plugs I'm going to take those out. And if I may, I will tie you up and make you listen to my story.
'What? You are going to shout. Call the police?
 'Sure. You can go ahead. You may go and knock the courts. Go to the magistrate's court; try the High court or even the Supreme Court. Do whatever you want, and it will be of no use. They can't stop me; they can't even touch my hair because I am… I am a fully 'gone case'. Pure 'nuts'…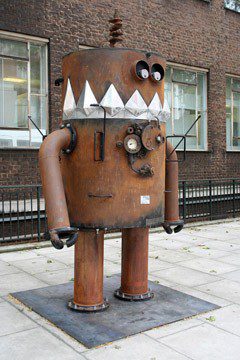 'What did you ask? Why I am not ashamed to call myself 'nuts'?
'Why should I? Are you ashamed to call yourself a manager, a lawyer, a doctor or a clerk? Then why should I?
'As madness is not a profession! Oh, your logic is fine. But then, you like to call yourself literate, independent and modern; don't you? These are not professions too, but you identify yourself with these adjectives. Then why you complain with my identity – I am mad!
'So, you see that there is no worth arguing with me. Now you are getting me well. So, just listen to me without a fuss. There were times when I loved to call myself literate, independent and modern; like you now. I was not sure whether I was any of them. But I wanted to… I really wanted to prove that I was… I was literate, independent and modern.
'Modern….
'Yes, modern.
'And everything started from that very word…
'Those days I was yet to be introduced to the society with my own identity; and I was desperate to begin……… to begin with a bang!
'The   analysis of  my  youthful mind  found everything in  me to  be superficial, appeal less and hopelessly ugly, I found that  I am not modern enough and today's world wants more of it. I would vanquish if I didn't walk along with these fast changing world and I could not let that happen. How could I accept my being without existence in this happening world?
'Everyone suffers from hidden jealousy and great expectations within themselves, but no one likes to accept. But I do not have such a problem as I am insane. I would surely envy you if you become famous and when I tell you this      you surely will laugh as I am mad. This is the best thing being an insane; nothing prevents you from telling the truth. So, I can tell you freely that in those days if anyone was proved to be smarter, more successful and more famous than me, I used to suffer; …suffer a lot. It stung me repeatedly. In that mad mental rat race, I had to run past all those and by any means… I had to.
'But deep inside me I had a fear. I had the idea that the world around was far more superior to me. I did not want to accept that. I had to make myself at par with that superiority. I felt I need to walk some extra miles to exist in that zone of superiority. I decided that my dresses, my way of talking and walking were all obsolete and they stunk. They smelled like some unused, old, fetid well. So, I changed my ways to modernity. I changed every bit of me that identifies me. I made my talk, my walk, my thoughts and everything that was me to something that seemed modern. My old friends were unable to identify me in my new avatar. I was very enthusiastic with the changes.
But….
'Did I feel myself modern? No. Deep inside me things were all the same. The 'me' inside me was same (dirty, rotten…) nothing changed there. May be I lacked something. Surely I was devoid of some elements of modernism. I had to acquire that missing element.
'I analyzed and found that my own mind was at fault. I found that I had to culture new ways of thinking. The thought-waves rippling in my brain were old, too ordinary and bland. And, instantly I reoriented them. I painted them with newer and vibrant modern waves. My thought waves began to roam in new pavements of 'existence of ether', 'green meanings', 'gay revolution', 'transvestism vs. trans-sexualism','ozone layer reconstruction' etc.
'At  the  height  of  this  self-imposed modernism, I  did  obtain  a  new nomenclature for myself.
'I am Metro-sexual.' I told the society.
'Did I know what the heck 'metro-sexual' is? No. I could not understand the meaning of being a metro-sexual. None of the thesaurus, dictionaries could give me the real meaning of that. But I stuck to that as I found that word wonderfully modern. As if it could give all the zing to my presence in the society that I needed so much. As if it was the magic potion that could make me an ever-green modern man. As if it could wipe out every filthy old trademark of mine.
'That was just right for me. I was beginning to feel the modernity rising high inside and around me. Then…. Then I met someone and he told me, "Modernism is long finished, man!" It was difficult for me to understand. How modernism of today can dematerialize into the past in today itself! O man! Is this the modernity I was all after…?
I  couldn't  understand  but  the  atmosphere  around  told  me  the  same.
'Modernism is a thing of past'. You can make thousands of faces but no one have the time to look at you. If you are modern now within hours you can be an old goat. Things are like politician's ideology or the fifteen minutes fame of a TV reality show, momentary, slippery…
Now then…what to do?
Something had to be done to know the existence of being? If modernism is outmoded, what is new?
"This is post-modern era, brother. Everything is possible these days." One fine day, one of my friends commented.
'Post modern!
'Beyond modern!
'Now what a heck is this Post Modern!
'What does that mean?
'Again I was at a loss. I tried hard to understand what Post Modern is.
'I  searched  the  meaning  in  the  colours  of  paintings…I  failed  to understand. I  searched  it  in  the  blues,  in  the  jazz,  in  the  dramas.  I searched even in the philosophy books. But I failed to extract one answer out of them.
'I could not get cocaine. So, I tried to float with marijuana in search of post-modernism. I saw the reds, the blues. I could see the songs. I could listen to the melody of colours. But, post-modernism! No. It was not there either.
I didn't had the slightest of pre conceived notion about how I would look like if I present myself in a post modern way.
'It might be a transmogrification of modern way of thinking. The primitives moulded with a scientific base; painted by artist's meaningless brush strokes and infused with the essence of non-existent five elements
– Relentlessness
– Loneliness
– Insomnia
– Mental sexuality
– The cock tail of have & have-nots equation
……………………………………….into this routine called life.
'This might be Post modernism!
'I shared those thought bubbles with a few, everyone screeched.
'What the hell are you talking about? Would just gathering few meaningless word from everywhere and joining them together give some meaning to whatever you say'?
'I tried to make them understand (feel), but no one agreed (listened) to me. They called me the mad and I protested without any effect (on them); so they insisted on their notion about me.
'Hence I become the mad to everybody and gradually I succumbed to the circumstances. I accepted that I am mad to their liking and everything changed dramatically. Things that were unthinkable and tough became unbelievably easy in social circumstances. The people who were irritated with the mere sight of me now listen to me with a great interest and sometimes agree on few things too.
'As I became the nuts, I had many advantages. I had freedom from the usual life, freedom from the monotony of monopoly (or vice versa). I can do whatever I want to, I can think whatever I want to. I don't have to care other's  damn  opinions  about  me.  I  could  have  the  thing  I  always wanted… a careless 'bindass' life.
'I was really enjoying everything but what stung me was my loss of direction.  What happened to the identity I wanted to give myself? That bothered me most of the time.
'Being nutty is alright. But it is only a prefix, an adjective.
'What I need as me is a noun, a unique noun. And I still don't have a name. If someone asks my name what I shall say. I have no qualms being called a mad. But there are lots of mad, a lot of them. So, where is that me? That specific me! That unique me! The society still needs an identity for me.
'Right from the day of conception I have changed my form like a snake shades its skin. But this time I can't even change my skin as I don't even have a body.
'You murmured something…
'Nuts' ravings!
'I should consult some psychiatrist!
'Sure, I should. And I would. If only I had legs to walk to a psychiatrist's clinic. I could tell him my problems if only I had a mouth and a pair of lips like you. I could go if at least I had a visible body like you.