Get your book Reviewed on Indian Review.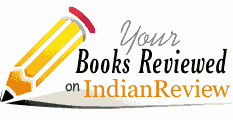 At Indian Review we only accept books for review when we are confident that we can provide you with a level of service that reflects the quality of your work. We want readers to find your book and that means making them stand out!
Q.   Why Indian Review is a perfect place for your book review?
Indian Review caters to an audience who love literature and the arts. 
We have over 25k visitors a month, who appreciate the work we do on Indian Review.
The content on Indian Review is curated and then shared which makes it a niche site for good literature.
Q.   What is rating I will get for my review?
You rating will be decided by the reviewer. We do not give random ratings. 
If the reviewer finds you book excellent then he/she will share the ratings.
Q.   What is the cost?
Indian Review is a completely literature based site and we charge a minimum fee for the reviews shared on our site.
The fee is shared with the reviewer and for the site maintenance. 
Email us at myreview@indianreview.in for more info.